In last week's post, I reminded you that "the most precious, life-giving parenting resource available comes in the form of God's Holy Word, and that "God eagerly waits for you to sit at his feet, wanting to give you the refreshment you need for this lifelong calling called parenthood."  Today I want to share with you how you can encourage your children to want to sit at the feet of Jesus for themselves!
When my children were very young,  I began to become concerned that they learn the importance of reading God's Word, so I decided to ask a friend for advice.  "Bible before breakfast!" she told me "That's the rule in our house. No Bible. No breakfast!"  Her children were young and she was sincerely attempting to train her children to be in the Word every day.
I came home and shared this with my husband.  After some discussion,  we decided that it was not the direction we wanted to go. Brian reminded me that our desire was that our children grow into their own walk with God, and it wasn't something that could be forced.  We needed to pray for it to  come from their own heart that hungers for the Word.
What can a parent do to encourage their children to be in the Word of God for themselves?
Pray. Pray that God will open your children's eyes to the need they have for a Savior, that He would create within them a desire to know Him, and that He will open their eyes and ears to what HE wants them to see and hear in the season they are in.
Set the example. Make it a priority to be in the Word and nurture your relationship with God. You can set the tone for the home by being eager to be in the Word and fighting for that time yourself.
Read the Bible with your children.  Have time in the Word as a family or with each child individually, sharing in an age appropriate manner.  Allow them to take part in reading, discussion, and sharing what they are thinking and feeling. Remember that they are in a process of learning, and any level of understanding should be celebrated! It means God is doing a work in them!
Look for age appropriate resources.  Provide age appropriate resources for them to use, making them available for them to use when they are ready.  Invite them to bring their own Bibles, notebooks, devotionals etc, and join you as you have your own time in the Word. You can even give them their own hot drink or snack, and make it a special time!
PRAY!  Our children grow at different rates. Although we wish we could make them understand God's Word, want to read it for themselves, and have hearts that desire to please God, we must wait for God to do His work. For some that will take years, for others it will happen at a very young age. (My daughter was very young when she began showing an interest, my son was in his late teens!)
If we want our children to have to a strong walk with God, the best thing we can do is pray for them, love them well,  set an authentic (not perfect) example, and then wait for God to do the same miraculous work in their heart that He has done in our own!
**Gina is the manager and mentor at The BoyRaiser Tribe! Details about The BoyRaiser Tribe can be found HERE!  Come and join us! We'd love to have you!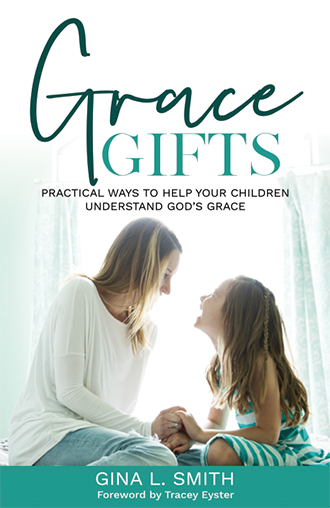 **Gina has a newly updated book entitled: "Grace Gifts". You can purchase your copy at amazon.com!
"As parents we can be tempted to look for methods of parenting, when what we really need is principles. The principles found in "Grace Gifts" can be carried out a hundred different ways. They can actually be custom-fit to your particular family. "Grace Gifts" is a short book, is perfect for busy moms, and is filled with ideas and practical ways that can help your children understand God's grace. It is one of those books you will want to reference over and over again."