We Challenge You to a FIGHT!
Will You Accept the Most Important Challenge of Your Life?
The BoyRaiser Tribe is designed to teach and equip you to make prayer a practical priority. You can impact your son's life in about five minutes a day. We'll show you how.
As a member of the Tribe, you'll receive the following items each month!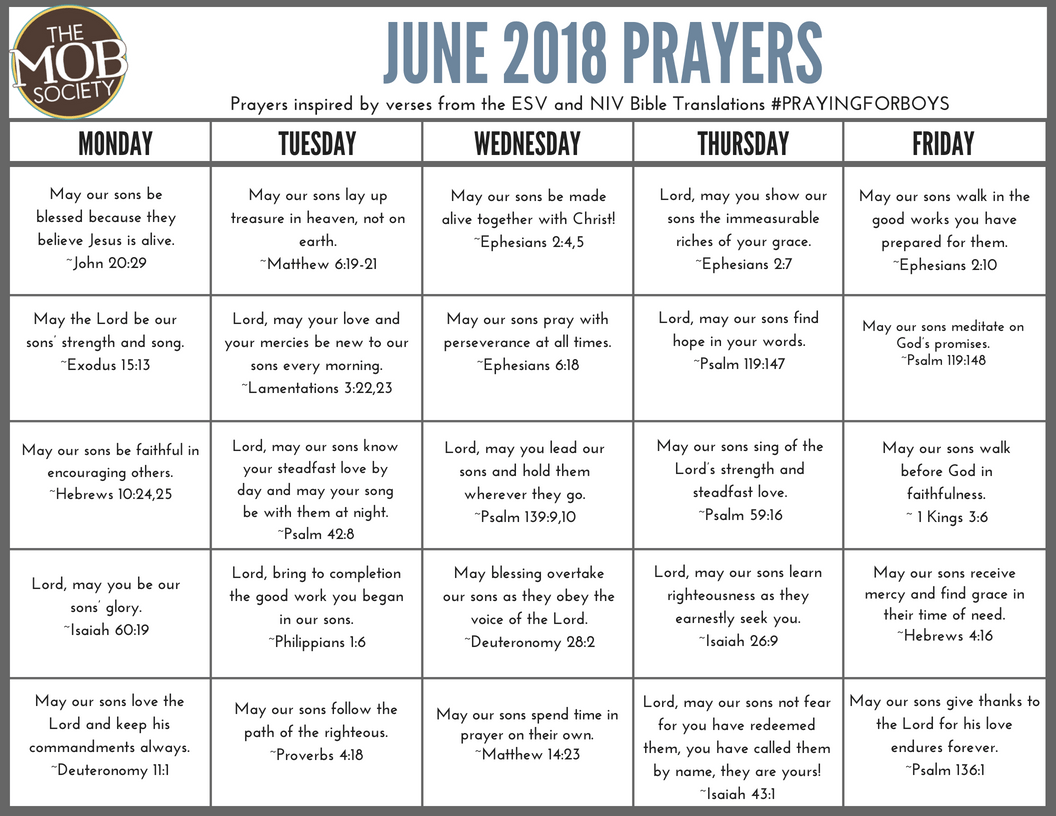 Praying for Boys Companion Guide
Member Bonus
Members who register for the $25/Quarter Level Tribe Membership will also receive our quarterly printed prayer journal – My Book of Prayer from Brooke McGlothlin and The Mob Society.  We know you'll love it as much as we do!
My Book of Prayer is the space where your prayers and God's Word meet, allowing you to partner with Him as you parent your son. When they're little, boys don't know how to guard their hearts. When they're older, they sometimes forget to guard them. But in all stages of life, mom can ask God to guard her son through her prayers.
With a design that enables you to both engage the Word of God yourself, and craft handpicked verses into prayers, My Book of Prayer leads you in impacting your son's life for generations to come in just about 10 minutes a day.
*International members do not receive a copy of My Book of Prayer due to the cost of International Shipping.  It is available for purchase separately.
Members registering after November 6th will receive the  next edition when it releases in 2019 as their first shipment.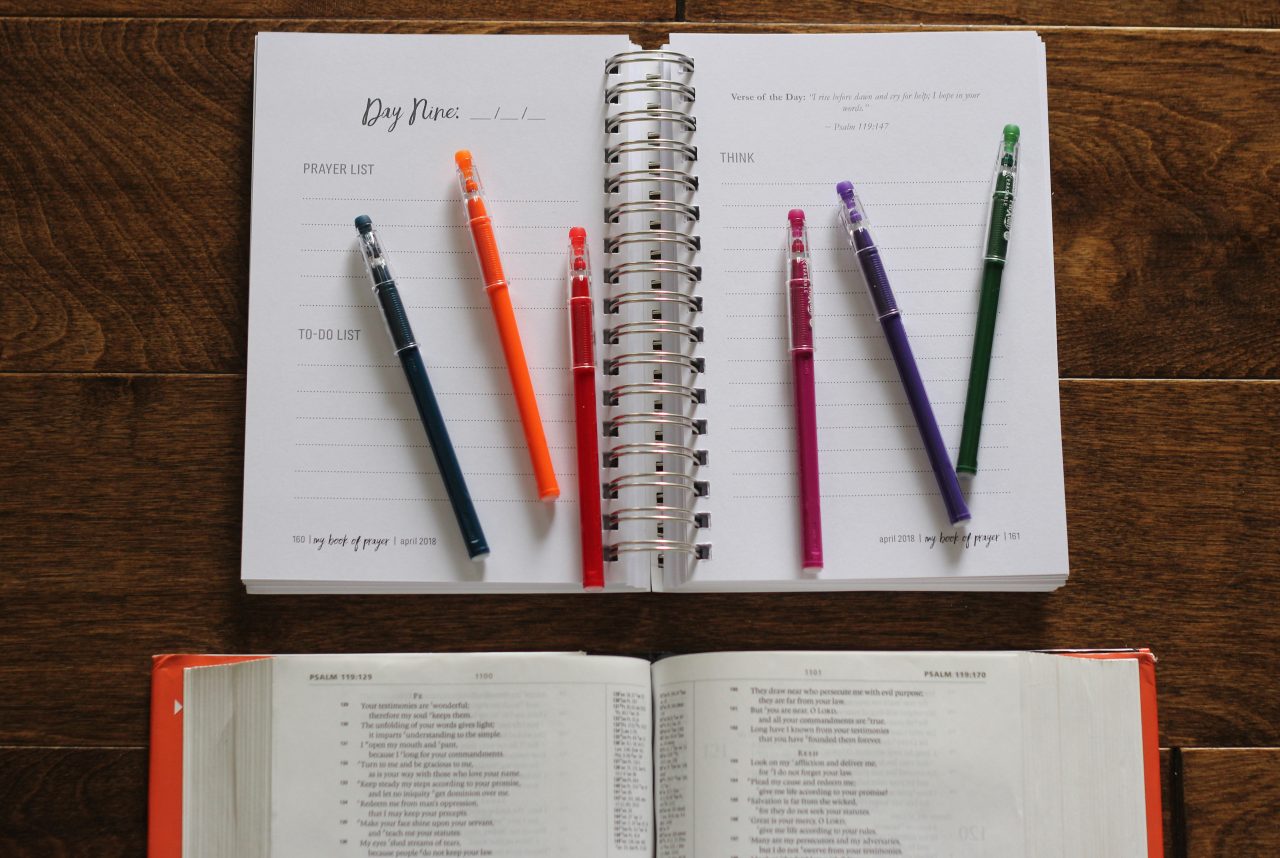 #1
Monthly, scripture-based prayer calendars.
Take the guesswork out of knowing what to pray for your sons and let us do it for you! Each month, our team lovingly hand-crafts scripture-based prayers for your boys. Print them out in a convenient, easy-to-use prayer calendar format!
#2
A beautiful Tribe monthly prayer journal.
When combined with your monthly prayer calendar, our beautifully designed prayer journal gives you space to pour your heart out to God on behalf of your boys. It offers lots of white space, and thoughtful tips on how to pray.
#3
Exclusive member access to LIVE prayer events!
As a member, you'll receive access to our private Facebook group where Brooke McGlothlin frequently leads live prayer sessions! These events are both an opportunity to get covered in prayer by another boymom, AND an opportunity to watch a seasoned pray-er, perfect for those who are still learning the art of prayer!
#4
A copy of the Praying for Boys Companion Guide.
A compliment to Brooke McGlothlin's signature book, Praying for Boys, The Praying for Boys Companion Guide offers a behind the scenes, step by step process for learning to pray scripture for your own sons. It includes Brooke's own creative process she uses for her boys, and several sample prayers to get you praying right away!
#5
TONS of valuable resources just for members!
As a Tribe member, you'll have access to a wealth of resources – podcasts, ebooks, interviews – designed to help you raise godly men.
#6
Discounts on MOB programs and selected products.
Items such as our MOB Society tee-shirts, mugs, and our exclusive Fight Like a Boymom program (for moms of hard-to-handle boys)!
We are convinced that

prayer is the most important, most overlooked part of Christian parenting today

. It's our mission to change that, starting with you!
Here's what some of our current Tribe members have to say:
"I love the prayer calendars! It helps remind me to pray for my boys every day. I have it hanging on the refrigerator, so when I go to get something out of the fridge I read the prayer, sometimes silently, sometimes out loud if the boys are in the room."

Kellie
"The Facebook group is a safe place where I can say something without fear that I'm going to be blasted for bad parenting or get ungodly answers. I'll confess the other resources are so very rarely used because I'm mobile and they aren't really phone/data friendly. I feel heard and understood. It's lonely being a pastors's wife and mom to "those boys.'"

Dalyn
"I love the community! Having access to other boymoms at all stages of life is invaluable to me. Several times I've come to the community with a question or concern and within minutes had encouragement and answers. I also love the new live prayer sessions. Knowing I'm being prayed for while in the trenches helps to keep me going."

Tara
"I love the godly community where we ask questions and encourage one another. I also love the constant scripture being fed to me through the calendar and postings!"

Stina
If their knees are ever to bend to Jesus as Savior,

their hearts must bend first

. This is the place of a mama's prayers.

Join the Tribe today

and get started on the fight of a lifetime!
"I loved it! The calendar is up on my fridge and I'm using the guides – very appropriate for where I am and the things we are experiencing with our three boys. Thank you for all of your hard work and the hope you share with other mothers!

Simone B.