It was my daughter's wedding day. I woke up early,  slowly climbed out of bed,  and made my way out to the kitchen to begin the day. After making a pot of hot coffee, I filled the kitchen table with an assortment of yummy, easy to eat breakfast food – strawberries, bagels, cinnamon bread, hard boiled eggs, muffins, orange juice – all things that could be enjoyed while we got ourselves dressed and ready for the wedding.  With a twinge of sadness, remembering that this would be the last morning my daughter would wake up in our family home,  I walked down the hall and poked my head in the door to make sure she was awake.
Slowly our kitchen came alive as excited bridesmaids arrived.  It was a fun morning as we all prepared for the 1:00 PM wedding, while munching on tasty muffins and fresh fruit.  The busyness helped to distract me from what this day meant for our tight knit family and how our lives were about to change forever.
God's promised grace (enabling grace = When God gives us  the strength we need to do what we could not do on our own.) was evident that day. It truly was a day of worship, rejoicing in God's provision for my daughter, and grateful hearts.  But there was one moment, during the hustle and bustle of our preparations, when I began to be overwhelmed by emotion. This was not the way I wanted to spend this special day!  My prayer for months had been that I would be able to walk  through this day with no tears – only a grateful heart. My desire was that  I would be aware of  the grace God promises to provide in my time of need.  I quietly walked back to my bedroom, closed the door, sat on my bed,  opened the word of God,  and began to pray.
This is the passage of scripture that God led me to that morning:
"He made the storm be still, and the waves of the sea were hushed. Then they were glad that the waters were quiet, and he brought them to their desired haven. Let them thank the Lord for his steadfast love, for his wondrous works to the children of man! Let them extol him in the congregation of the people, and praise him in the assembly…" Psalm 107:29-32
What a word from God! It was just what was needed to calm the waves of emotion and carry me through this day that would change our lives forever.  It was during this time spent apart before God, that the "waters were quieted...".  It was just what I needed to remind me of " God's steadfast love, and his wondrous works" in my daughter's life, and the life of our family. My daughter's wedding day was a day meant for  "extolling and praising him"!
So, how does this help you – the mom of  a newborn, toddler, young children, middle schoolers, and even high schoolers? How does this apply to the season you are in?
In every season God promises to provide the grace we need. That strength God has already provided is there,  but it is our responsibility to choose to access what he has provided. And how do we do that?
Spend time in prayer and in the Word.  Quiet yourself before God. Admit the fact that you are in over your head and that you need his grace and strength to face the season you are in. (Psalm 131:2)
Read the scriptures. Take some time to read the Word. The Psalms is a book filled with one who cried out to the Lord for his help and strength! (Psalm 86; Psalm 34)
Redirect your thoughts.   Take time to remember all that God has done in your life and  all the ways he has provided for you, strengthened you, and carried you. (Psalm 77:11; Psalm 105:5)
Thank him. Thank him for being faithful even when you have not been faithful, for his steadfast love when your love has often faded,  and for giving you so many of your heart's desires, even though none of us really deserve that gift. (Psalm 107)
Thank him again!  Thank him for his promise to provide mercy and strength when you need it, and a peace that passes all comprehension.  Ask him to fill you with a peace that passes all comprehension and to fill you with the strength you need to move forward. (Hebrews 4:16; Philippians 4:6,7)
Every season comes with it's own unique challenges (especially as a mom!). Even new and exciting seasons can be bittersweet, bringing much adjustment. We often find ourselves feeling like we are  being blown away by the winds of change.  God has promised to give us the grace to stand firm and steady amidst these winds. All we have to do is reach out and ask him for his help.  He has already provided all we need!
"The Lord is my strength and my shield; in him my heart trusts, and I am helped; my heart exults, and with my song I give thanks to him. The Lord is the strength of his people; he is the saving refuge of his anointed. Oh, save your people and bless your heritage! Be their shepherd and carry them forever." Psalm 28
**Gina is the manager and mentor at The BoyRaiser Tribe! Details about The BoyRaiser Tribe can be found HERE!  Come and join us! We'd love to have you!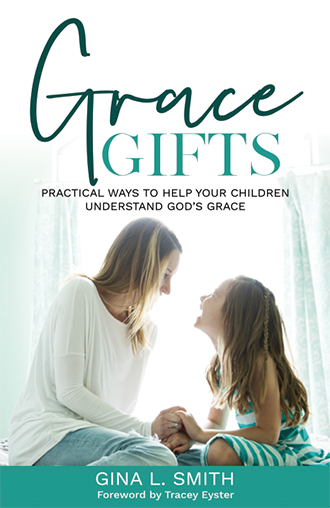 **Gina has a newly updated book entitled: "Grace Gifts". You can purchase your copy at amazon.com!
"As parents we can be tempted to look for methods of parenting, when what we really need is principles. The principles found in "Grace Gifts" can be carried out a hundred different ways. They can actually be custom-fit to your particular family. "Grace Gifts" is a short book, is perfect for busy moms, and is filled with ideas and practical ways that can help your children understand God's grace. It is one of those books you will want to reference over and over again."