Today, Monday, and Tuesday, we begin preparing our hearts for the upcoming 21 Days of Prayer for Sons challenge by studying the first three chapters of Praying for Boys: Asking God for the Things They Need Most. As you read today, ask the Lord to reveal His heart for your sons, and prepare yours to begin praying on October first.
**********
"For the word of God is alive and active. Sharper than any double-edged sword, it penetrates even to dividing soul and spirit,joints and marrow; it judges the thoughts and attitudes of the heart." Hebrews 4:12
"Dear Son, please stop eating the dog food and playing with knives.  Love, Mom."
This is what a love note to my toddler son would read.  Honestly, it probably wouldn't sound quite that sweet.  What you don't hear are the exasperated sighs that wonder why such reminders are even needed.  It seems boy moms share something in common: whether our boys are 3, 13, 23, or 30, they often leave us scratching our heads and wondering why.
I've been praying about those exasperated sighs.
Does God want to come along and make this raising a boy thing easier?  Yes!  But, He doesn't wave a magic wand nor promise our boy's blind compliance.  Instead, He invites us to use His Word—the one that is alive and active (that means doing something!).
As a mom who works outside the house full time, I face the continual challenge to still give my family my best time, even when that doesn't mean my most time.  I continually look for ways to better connect my love for God and my love for them so I may more effectively be all that I am called to be right now—a righteous woman, wife, mom, and employee.
A Righteous Home Front
In reading Boys are A Battle Zone, the first chapter in Praying for Boys, I was struck by the discrepancy between Eli the Priest's professional life and his home life.  What a dichotomy that in the temple he is given one son to train in righteousness, while his own sons have no regard for God.  It's easy to read and question Eli, but I understand all too well how this disconnect occurs.  When God is not our focus, we can "turn it on" in the workplace and act as we know we should. On the home front, where our true colors show, we can reap truly sad consequences when God is not at the forefront.
How can God remain a priority in raising our sons through the exhaustion that each day brings?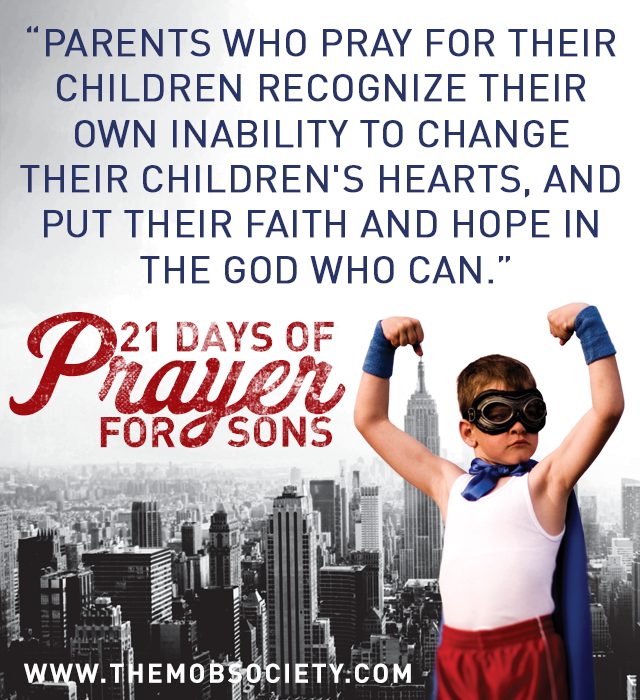 Through His Word—alive and active—His very breath, eager to work powerfully in our lives right now.
My first step in preparing for the battle zone began with my relationship with Hebrews 4:12.  Do I really believe his Word is alive and active in every area of my life? Do I really believe that God's Word can work powerfully in parenting our sons?  Can I replace those exasperated sighs with God's truth?
A sobering look inward made me realize that while I love God's Word—studying it, writing about it, digesting it—I have not been using it nearly enough in my prayer life.   The more I think on it, I truly believe that praying His Word is a powerful way to prevent disconnects in my own personal/professional/spiritual walk. It also helps to quiet those exasperated sighs.
What about you?
Do you believe God's Word is alive and active in your life? How is it active in the role of raising your son? Could it be that God is challenging you to let His word be more active in your parenting?

Kate Carman believes each day should include celebration, the Bible, vulnerability, and coffee with French Vanilla creamer.  She lives in Georgia with her husband and two young kids, works full time in commercial property management, and loves to write and encourage.  You can read more from her on her blog.
Not signed up for the 21 Days of Prayer for Sons challenge yet? Simply subscribe to the MOB Society blog now. That way, the posts will come straight to your inbox all month long!