How-to books and blog series are so popular and very inspirational, but for me they usually lead to a lot of extra to-dos on my list and leave me feeling more overwhelmed than inspired. The last thing I need as a mother of three boys is an over-the-top to-do list, right?!
It's time for a little perspective shift.
Let's take a step back together from the how-to's of raising our boys and think about the flip side. We can laugh a little as we read this list, but we can also take a different, honest look, asking ourselves:
What actually hinders our goal of raising boys who follow Christ?
To help you figure this out, we've put together a little resource called How NOT to Raise a Godly Man. It's more of a satire piece—meant to be funny and challenging all at the same time. We wrote it because we don't believe there are any formulas to raising men who love the Lord, but we do believe there are some great ways to make sure you don't.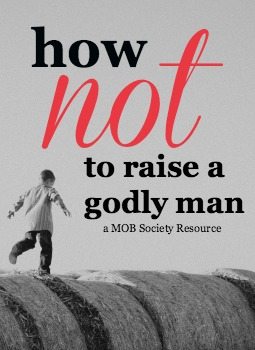 In this resource, you'll find two very practically useful things:
A list of 60 ways NOT to raise a godly man (from me, Brooke McGlothlin, and our amazing Facebook community!)
An extensive list of helpful resources to guide you as you work to raise godly men.
Consider it a both/and kind of resource—telling you what NOT to do, then guiding you toward things that can really make am impact in your mothering.
It's our gift to you.
Yours free just for subscribing to the MOB Society blog. Simply enter your email address below, and you'll receive a link to the resource at the very end of the next RSS feed email you receive from the MOB Society. Please be sure to follow any subscription directions you might receive, or we can't guarantee you'll get it.
And be sure to tell all of your boy mom friends about this helpful new resource!
If you're reading this in your email because you're already a subscriber, then just look below for the link! Easy peasy – that's it!