I wish I could remember the exact day and time I gave my life to Jesus, but my memory won't let me. I know I was young, somewhere around 8 years old. This little girl grew up in a large church, attended Sunday School and VBS. And after every Sunday Service, I'd beg to go into the church's bookstore so I could pore over the rows of books on every subject for my age.
I was hungry to know more about this God who loved me so much. I wanted to know more about my part in His BIG story. Even at such a young age, I felt desperate, restless, to understand how God and I fit together.
On the timeline of my life, this is when my lifelong pursuit for God and my quest for His Truth and my identity, in Him, began. But it wasn't an easy journey. Those years between His rescuing of my soul and the several rebellious years I spent searching for something "other" than what was right in front of my face, they were wrestling years. I poured all my questions out to God, alone, on the blank pages of many journals beginning around the age of 10. I wrote for hours sometimes, carrying on long prayer-filled conversations to an audience of One. Only God read those words of mine. I felt safe in His presence.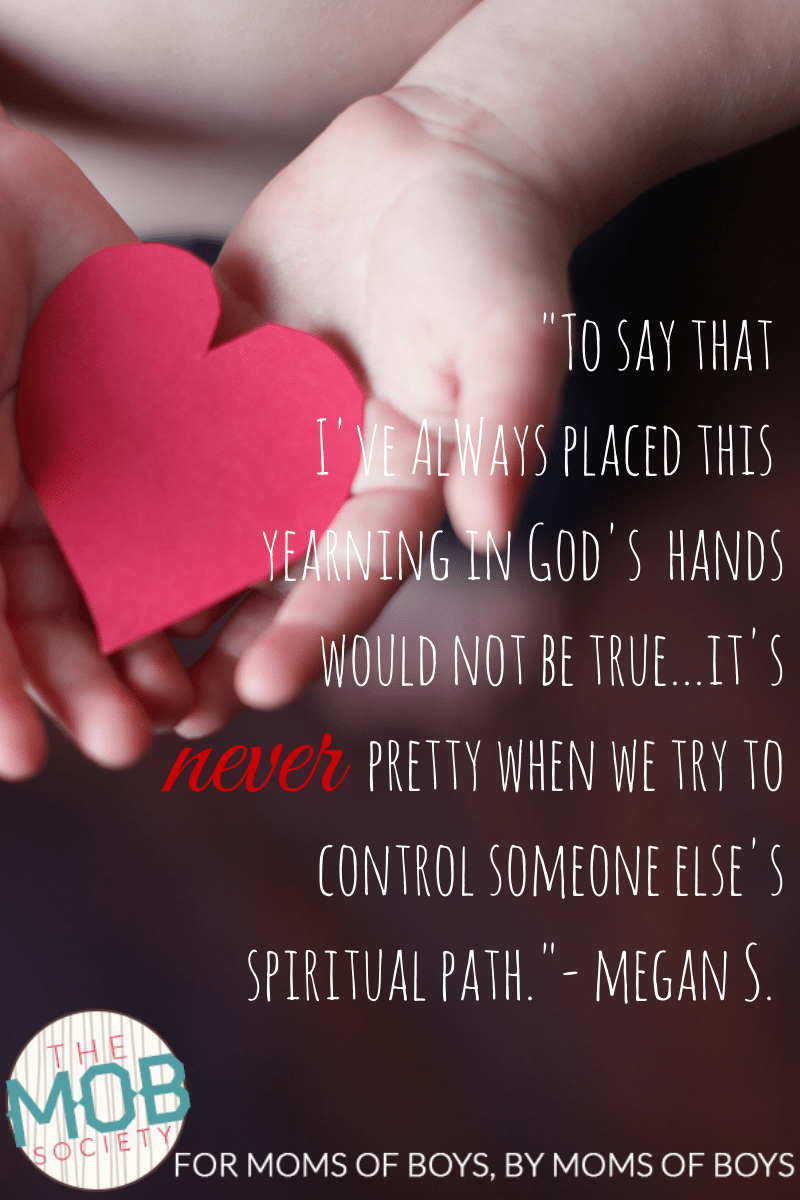 Years later, when each one of our four sons were born, my heart's greatest desire was for them to know Jesus and fall deeply in love with Him as their Creator and Savior. I couldn't wait for them to take that first leap of faith toward Jesus. To say that I've always placed this yearning in God's hands would not be true. I want my boys to know Jesus AND be saved from difficulty. To be honest, I've tried to claim God's role as the Holy Spirit in my sons' lives as if I could speed up or control their Salvation. It's never pretty when we try to control someone else's spiritual path.
I've learned so many important lessons while raising these sons of mine. And I have no doubt, that I better keep a teachable heart or I'll fall flat on my face every time.
Here are a few things I am trying to keep in mind every day with regard to my sons' Salvation and journey with Jesus:
Each and every day I get to be their mom on this earth is a blessing!
We need to remember that God will never leave, nor forsake our sons, so we can rest assured that He is actively pursuing their hearts.
Parenting our children is very much a part of our own sanctification journey while we wait for the return of Jesus.
Each one of us has a path to take, a cross to bear and a story to live that will bless another and bring glory to God. No one's path to Jesus is the same. Sharing our stories with one another serves to bless but comparing is completely destructive.
When a mama's heart is after the heart of God, her prayers for her sons to know Jesus are powerful and effective. (James 5:16)
When my older two sons decided to ask Jesus into their hearts at the tender ages of 7 and 9, my heart was filled with such JOY! I immediately began wondering how I could emulate that for my other two sons? And then I quickly remembered my own Salvation journey and how many twists and turns it took in those early years and even now, in the sanctifying and refining process.
We aren't in control of our sons' Salvation, but God blesses moms with the huge supporting role of loving our boys unconditionally, praying for them constantly and sharing our real life faith with them every single day.

Be encouraged mama, God has a plan for your son and is on his side, and yours.
What tips can you share with moms who might be struggling because they long for their sons to accept Jesus into their hearts, but they're fear stricken because it either hasn't happened yet or they're afraid of the crosses their sons may have to bear on their own paths?