Frost coated the windows of the little mountain house, but inside the stove warmed the rooms. I had a front row seat to watch the way a boy-family celebrated Christmas. They performed the rituals for my benefit, so I could see what brought them together to create a holiday in their home. Before breakfast, the brothers stood noiselessly, smiling, until another voice broke into the room with a declaration of "Merry Christmas, neighbors!" followed by a chorus of voices singing "Hark the Herald Angels Sing." With the first sound, the young man who would become my husband and his brother broke into lip sync, repeating the words of the Christmas album they had recited year after year to begin Christmas day. Their mother (now my mother-in-law) stood back in delight, watching her sons perform the yearly, brotherly ritual. They were actors, singers, comedians, performers, and carolers. They were brothers.
Christmas is a season of songs. Luke 1 records young Mary's song of praise, and after leaving the stable, the shepherds burst into a chorus of glory in Luke 2:20. It's too full and too rich not to have a "background track" playing a stirring score behind the celebration. What tune ties your family together?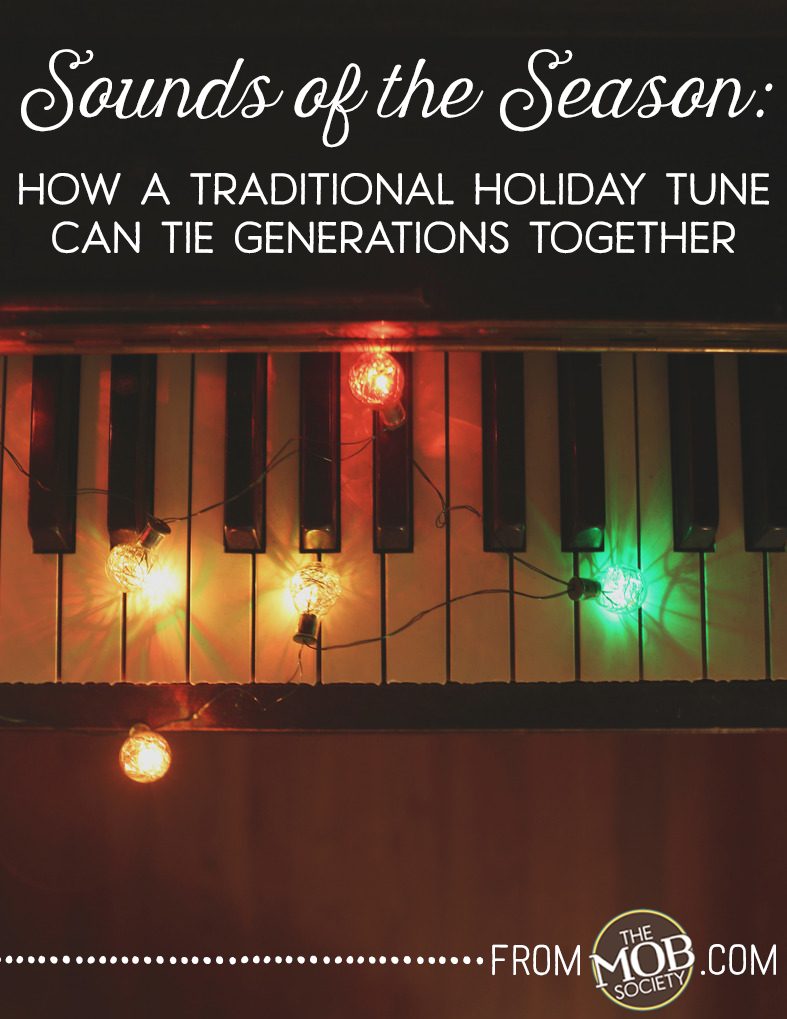 For my family, Christmas arrives with a song. Throughout his boyhood, my husband's family played their tune each year. They all knew the lyrics and could recite them verbatim, as if it were automatic and they couldn't stop … until they dissolved into laughter. When we were married over 25 years ago, we received our copy of Bonanza Christmas. I welcomed it with a bit of sarcasm and eye rolling. I hoped for "deeper" traditions than an old record based on a TV show. But I gradually found myself becoming grateful for the way God used the traditional tune to tie us together through generations. I found myself enjoying the way it made us laugh together, sing together, and welcome Christmas together. Like a lot of our most favorite and familiar traditions, we didn't choose it, discuss it, or decide on it. It just happened.
Even with imperfect pieces from our families of origin, the silly song that begins Christmas is a sweet remnant woven into our family story. It's cheesy. It's festive. It's the beginning of Christmas Day. God may use a traditional tune to tie you together through the generations.
When we added children to our home, my husband indoctrinated the kids in our family Christmas song. Now, our young adult son claims it as his own. He has adopted a piece of his father's boyhood and brotherhood into his own tradition, singing along with Ben Cartwright from the 1960s. The tune links our family to each other and to places we've called home across states and countries. On Christmas Day, our extended family knows that in each of our homes, the familiar strains of song will ring out, and our celebrations will begin, and we will stay woven together.
In the words of Bonanza's Ben Cartwright, "Merry Christmas, neighbors!"
Is there a song that accompanies family time at your house on Christmas?

How could you make the most of the "sounds" of the season to nurture the love between you?
Pray this prayer about your emerging traditions:
Father, help me lay aside my expectations for what is worthy to be part of my family celebration. Help me embrace and appreciate those things that bring my loved ones joy and tie us together. May our love for each other and the songs of the season be a sweet aroma to You as a gift in celebration of Your birth!
Resources
You can get your very own copy of the Bonanza Christmas here! (Warning: It's addictive, especially for teenage boys.)

You might like to make this recording of A Christmas Carol part of your tradition that brings together.
---