By now we know that most of you want to be praying on a regular basis, but life can conspire against every our bast-laid plans. Sometimes, to make a habit go from a "want to" to a "done" we need a serious "why to." Author, Speaker, and Podcaster, Mary DeMuth joined us for an episode of MOB LIVE all about this giving us lots of tips and practical habits.
In this article, we're taking some of her wisdom, combined with ours, to help you figure out your why by sharing 6 reasons you should be praying every day!
1. It will make you a better mom.
Mary shared this reason on episode #31 of MOB LIVE, and we couldn't agree more. Constant conversation with your Creator will change how you see the world and interact with your children. You'll notice over time that you're becoming more and more like Jesus, and that means you're showing more and more of Him to your Kids. Win!
2. It will give you a place to unload your burdens.
Erin shared with us that one of the things she loves most about prayer is that it gives her a place to rest. As she tells God all about the things that are currently weighing her down, she feels relief in remembering that God already knows and has everything under control. Who better to take our cares to than The One who has the power to do something about them?
3. It will increase your knowledge of God's character.
It's really just like having an old friend. When you spend time with someone, you know how they think, what they would do in certain situations, and what their voice sounds like. As you get to know God more through time spent in prayer, you will think more like He does, know when He's moving in your life, and recognize when He's speaking to you.
4. It will change your mind.
Mary shared that one of the areas she struggles most with is body image. As she has struggled to see herself the way God sees her, and dump the way the world things about beauty, praying God's Word back to Him has helped shape her mind and remind her of the truth when she feels bombarded with lies.
5. It will deepen your relationship.
We've already touched on this, but when you're in a relationship with someone you TALK to them, right? Same with God, really. At its most basic level, prayer is simply talking to God. Doing it will remind you that He isn't some far off God who has forgotten about you. No, He's the God who bends down to listen, and He has his ears and eyes inclined toward you (Psalm 116:2).
6. It will help you be "others" focused.
Taking the time to pray not just for yourself, but for the needs of others will help you keep your eyes off of yourself and be "others" focused. Jesus taught us that to love is to serve, and to put the needs of others above our own. This is a fantastic way to keep your mind and heart in the right place (AND to help put YOUR troubles in perspective)!
The Ultimate Prayer Motivation System!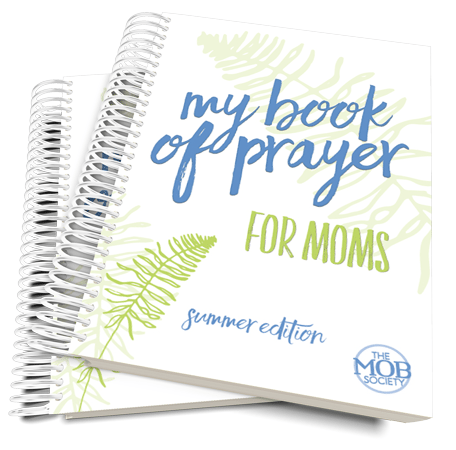 Take your daily prayer habit to another level with the Summer Edition of My Book of Prayer
 My Book of Prayer is our quarterly prayer journal that helps you make prayer a practical priority!
Designed to take you through 90 days of prayer, My Book of Prayer gives you a quarter of a year of prayerfully, carefully curated prayers so that you see the hand of God clearly in the various seasons of your family's life.
Planning prayer quarterly also allows our team to add special touches, like praying through themes of new life, new beginnings, and growth over the Summer months (yours in the latest Edition!). 
TIME LEFT TO ORDER THE SUMMER EDITION:
Here's what some of our current Book of Prayer owners are saying about it:
"MOB has been thoughtful about every single detail." ~Chesca
"This book… oh I can't say enough about it!! It's so wonderful! Thank you so much for your support and prayers and love for us mamas!" ~Tina
"Love, love, love the updated book of prayers! I am actually praying daily now and it's quickly becoming my book for all my prayers. I love the weekly devotions too." ~Nicole
"I have always had a difficult time studying the bible and being consistent with my studies. My Book of Prayer is the answer to my prayers.
The verse of the day is causing me to dig deeper for its meaning and doesn't overwhelm me in my studies!" ~Tia
Pre-orders for the Summer Edition of My Book of Prayer are open now through May 7, 2018!
As a small ministry, we must order an almost exact amount of copies that we need. We simply can't afford to house lots of extra copies, so we make a new edition of My Book of Prayer available each quarter (Summer, Fall, Winter, and Spring) and place an order for the amount of copies we need. The hard deadline for the Summer edition is May 7th, so please act quickly!
To learn more about pre-ordering your copy of My Book of Prayer, click here!