He tore outside, face blotched, nose running, gasping for breath between sobs as he threw himself into my arms. It would seem that I should be concerned as he was near hysterical, but this is my dramatic boy, and his tears weren't the kind caused by physical pain.
It was hurt feelings that brought about this reaction.
Kneeling down, as I had so many times before, I asked him to calm down and tell me what happened. I knew he needed to verbally process his hurt, so I waited, and I listened.
I haven't always responded to my sensitive boy well. Given his flair for the dramatic, my first response on more than one occasion has been a roll of the eyes and an impatient sigh. I lack grace in the dramatic.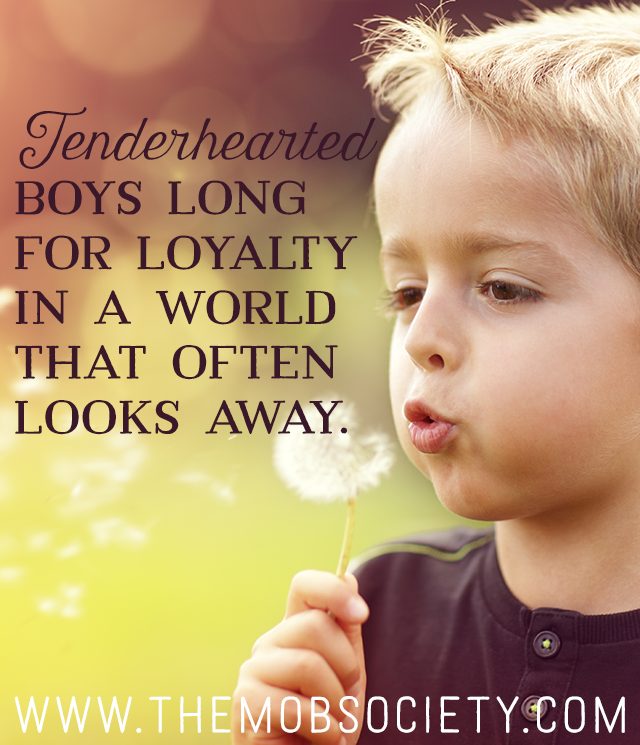 And yet…
There are many beautiful traits that this tenderhearted boy of mine possesses. He is loyal, and friendship to him is sacred. I understand this because I am wired much the same way. Over the years I have nursed my own wounded heart many times when friends did not give me the same loyalty that I gave them.
Through hiccups and gasps, he shared his hurt feelings, and his heartache quickly turned to anger. He demanded justice, that I send the offending friend home…forever.
"I don't want to ever be his friend again. Ever. He's a jerk!"
This moment happened two years ago, but it stands out vividly in my mind. It was the first time I felt a true and deep empathy for this tenderhearted warrior. His wounded heart begged for justice because that felt like the only tangible way to numb the deeper hurt he felt.
Tenderhearted boys long for loyalty in a world that often looks away.
For the tenderhearted warrior, a friend made is a friend for life. But what to do when the world sees friendship as disposable, and allegiance to one another moves with the ebb and flow of life?
There are three keys to protecting your loyal boy's heart, while also celebrating his noble and sensitive trait.
1.)Praise Him for Being Such a Good Friend
As he grows, he will experience the constant change of friendship more often. It is a rare friend that stands the test of time. He'll learn this lesson through hurt feelings and heartache, and yet he will still want to stand by his friends. Show him the value in his loyalty and give him the space to grieve when others don't take it as seriously as he does.
2.) Protect His Heart.
There will be some friendships that need to end. As our children grow from little boys playing war in the back yard to young men shooting hoops at the local park, the effects of life will bring about some unwanted changes in some. Recognize when a friendship is unhealthy for your son and point him toward the friends that will give him the support and godly influence he needs to continue to grow in wisdom and stature.
This is not to say he has to turn his back completely on a wayward friend, though there may be instances when that is the case. But there will be times when your loyal boy will struggle to step away, and you'll need to help guide him through that.
3.) Be Patient With the Drama
Avoid the eye rolls when they come in with hurt feelings…again. Give lots of hugs and understanding as they cry over offenses that, to you, seem minor. Help them face disappointments, realizing that 99% of the time little boy friendships are easily mended over a popsicle and a game of soccer.
A loyal, tenderhearted boy may shed more tears than his seemingly tougher peers, but his sensitive heart will also be the first to offer a hand of grace to an enemy, a defense for the weak, and support to a friend by standing by their side when life throws a curve ball.
Rejoice in your tenderhearted warrior, Mama, even if the drama threatens to do you in.
Lord, I praise you for these young men with a deep sense of loyalty. Help us to constantly point them toward you, Father, as they grow. May their allegiance to you be unwavering and sure. Thank you for these tenderhearted warriors, Lord. Use their lives to bring about your Glory. Amen.
Kelli Stuart is a writer and a mom of four who spends most of her days shuttling children from one event to another in her smokin' hot minivan. For years, Kelli perfected the art of the starving artist by ghost writing, editing, and writing newsletters back when newsletters were actually printed on paper. In 2004 Kelli co-authored the book Dare 2B Wise with Joe White, and from there began to focus heavily on her own novel, which she hopes to see published in 2015. In 2008, Kelli discovered blogging when her youngest was a newborn. She launched her first site, Minivans Are Hot, as a way to write about the often baffling and hilarious business of being a mother knowing that if she didn't laugh at life, she just might cry. She's recently transitioned to a new space online where she loves connecting with creative-heart moms to encourage them to continue developing and using their creative gifts for God's glory! You can find her over at KelliStuart.com — Kelli currently lives in Tampa, Florida where she tries hard to concentrate on balancing her love of writing with her desire to sit on the beach and read a good book.