Locker Room Lessons is a weekly series here at The MOB Society meant to help moms connect their sons' love of sports with lessons on life and faith.
If you think sports are just about competition and winning and great big egos and money, let me share a story with you from this weekend…
It was Rivalry Week in college football. Ole Miss vs. Mississippi State. Oregon vs. Oregon State. Alabama vs. Auburn. Georgia vs. Georgia Tech. And many more, including Ohio State vs. Michigan.
Never mind that Michigan hasn't had the best season – that doesn't even matter in a rivalry like this one. Rivalries bring out the best play in both teams and sometimes the worst in emotions from both players and fans. You'll often hear from players that winning these rivalry games means more than any other game in the season. And they'll even talk about how much they hate the other team in game-week interviews.
That's the case with Ohio State and Michigan. They each have spiteful names for the other team. This game means everything and they played like it, going to halftime tied. Ohio State pulled away in the second half, but the fourth quarter brought about something unexpected: a nasty looking injury to Ohio State's star quarterback, J.T. Barrett.
The injury could have been good news for Michigan. It could have provided an opening for the Wolverines to get back in the game. But Michigan quarterback Devin Gardner wasn't on the sidelines preparing for a comeback while his opponent lay on the field. He was right there next to Barrett.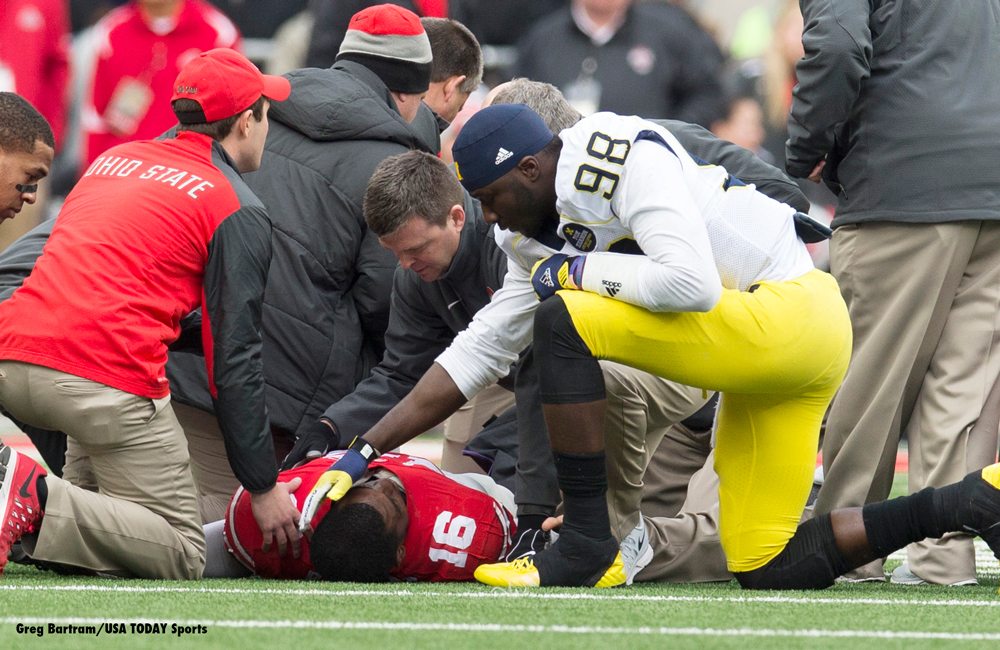 photo credit: Greg Bartram, USA Today
This moment proved some things are bigger than the game. Gardner kneeling next to the injured opposing quarterback with his hand on his cheek showed there may be lots of tension in a rivalry game, but there is also respect. I wouldn't expect a team to celebrate a broken ankle for their opponent, but Gardner's actions were beyond what most players would do in this situation.
As our children take part in competitive activities, I want them to do their best. I want them to give it all they've got and try to win, but I also want them to see the bigger picture. The most well-respected competitors in sports are the ones who show respect for their fellow players, both teammates and opponents. They are the ones who keep their cool in heated situations and let their character shine through in how they play and interact during a game. Devin Gardner was that player on Saturday.
The way a player plays the game is even more important than the game's outcome. And the way we live our lives, knowing "wins" and "losses" will both come our way, is more important than what we accomplish in life.
Have you seen your child exhibit great character during a competitive event? Make sure they know you noticed! Pray with them that God will help them continue to show good character in these situations.