"Yet this I call to mind and therefore I have hope. Because of the Lord's great love we are not consumed for his compassions never fail. They are new every morning; great is your faithfulness." ~ Lamentations 3:21-23
I open the door to their room, switch off the nightlight and turn to the bunk bed where two boys are blinking against the light of day. I ruffle brown and blonde hair and tickle sides, trying to cajole them from the land of sleep into the world of awake.
"I don't want to go to school today, Mommy," the one on the top bunk groans.
The blue quilts must be particularly cozy on this cold morning, because both boys are struggling to get up. I start to sing over them.
Great is thy faithfulness, Oh, God my Father,
There is no shadow of turning with Thee.
Thou changest not, thy compassions they fail not,
as Thou hast been, Thou forever wilt be.
Great is thy faithfulness, Great is thy faithfulness,
Morning by morning, new mercies I see,
All I have needed, Thy hand hath provided.
Great is thy faithfulness, Lord unto me.
I sing over my boys, a reminder that God's faithfulness is new every morning–a reminder that He doesn't change. He promises to be with us, He never fails. His faithfulness is great.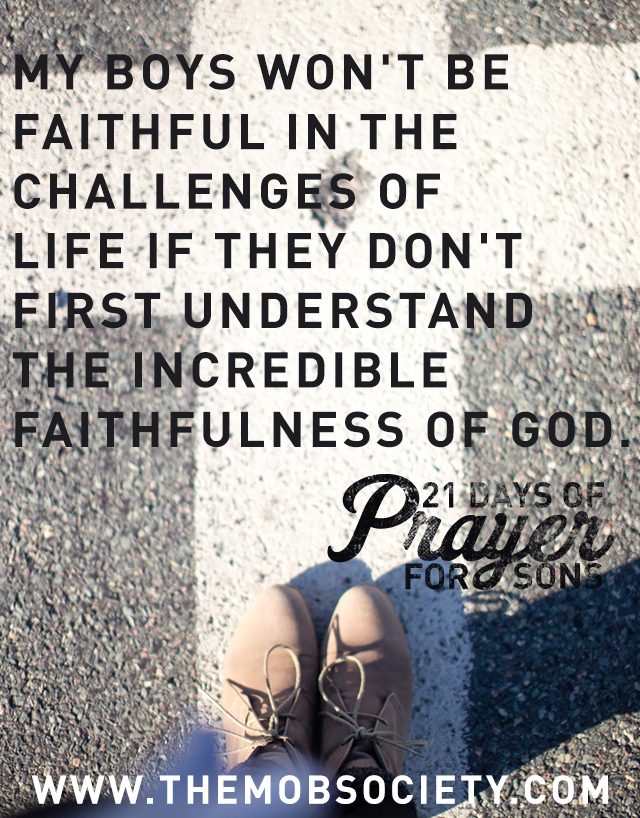 It's scripture, it's a song, it is a prayer I pray over them. Every morning, my boys are faced with new challenges. Will they get out of bed? Will they listen well to their teachers? Will they seek to bring glory to God? Will they use the gifts they have been blessed with as an offering back to Him?
"I say to myself, 'The Lord is my portion; therefore I will wait for Him' ". (Lam. 3:24)
I remind my boys that these words weren't written when everything was going great for Jeremiah, the author of Lamentations. Quite the opposite really. Things were miserable for him and yet, he could speak of hope. He could say that the Lord was enough. He could choose to wait on God and his timing.
My boys won't be faithful in the challenges of life if they don't first understand the incredible faithfulness of God.
They are awake now as feet hit the floor and they begin to get ready for the day. Later, I hear the older one singing "Great is Thy Faithfulness" and I smile a secret smile.
May they understand your faithfulness and seek to be faithful in response, I pray, and may they know your compassions that are new EVERY morning!
WHAT ABOUT YOU?
How would you finish this statement? A faithful man is __________________ (fill in the blank).
Becky Daye is a pastor's daughter, a pastor's wife and a mom to four pastor's kids. Her life is a series of sermon illustrations. A typical day involves dishes and laundry, cooking and cleaning, Bible study and lesson preparations, painting and playdough and always begins and ends with snuggles from her little ones. She writes about life and faith at dayebydaye.com.