Do what is right and good in the Lord's sight, so that it may go well with you.
How I despaired that my sons would ever be good to each other. Jaden's severe developmental delay and special needs kept him from understanding the damage his ten year-old body was capable of inflicting on three year-old Brendan. Let's just say he yanked him off a top bunk leaving him with a massive black eye. How my husband and I have worked and prayed for change.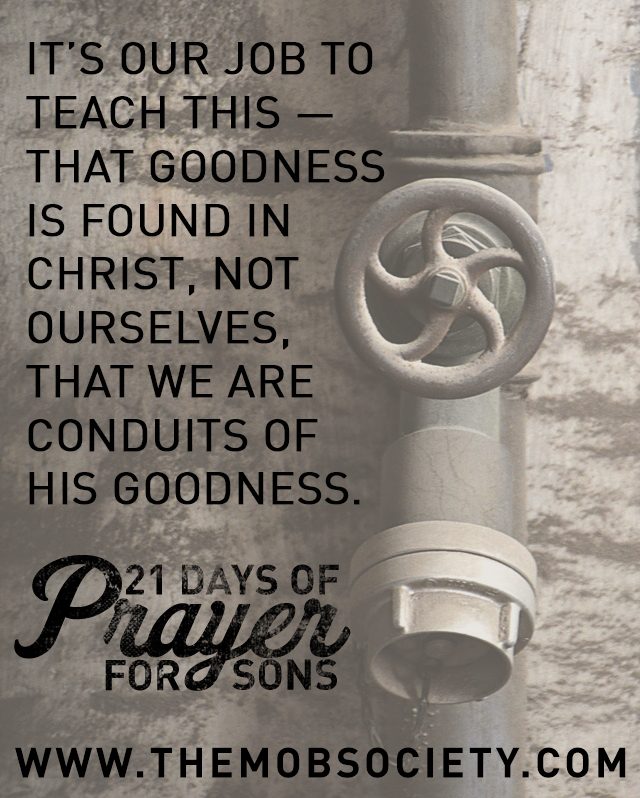 DOUBT REPLACED
I doubted I'd ever see the day my fiery last-born would forgive his older brother's offenses, but the Holy Spirit has worked faithfully. With a fuller understanding of his own blessings has come a burden to do good to Jaden — so much so that Brendan approached me solemnly a few days ago…
"Mom," my eight year-old said, "I love Jaden just the way he is. And I want you to know that someday if you and Dad can't take care of him, I want him to live with me." I had flashbacks of Brendan's rage… the days he asked, "why did you even adopt Jaden?" And tears pricked my eyes as I saw God's goodness taking root in my son's soul.
THE ROOT OF GOODNESS
"Goodness" is impossible to find within the hearts of our sons or within our own hearts. Our hearts are desperately wicked (Jeremiah 17:9). And we see that even in the precious sons we've birthed or chosen. When our sons find Jesus, the beauty of His goodness is freed in their lives. No longer slaves to their sin nature, the fruit of goodness is actually possible. It's our job to teach this — that goodness is found in Christ, not ourselves, that we are conduits of His goodness.
We can't force true goodness. Mothering is never about controlling. It's about living out what we long for in our sons, training and teaching from God's Word (<<<–Tweet That!).
Ultimately it's about praying our guts out and trusting God's Spirit to work. Our prayers are going to be desperate. I know mine have been. When we see the selfishness and sinfulness is our son's hearts, we find ourselves begging God to teach them goodness. Since goodness isn't a celebrated quality in society today, we're up against three formidable enemies — the sinful human nature, the devil himself, and a world full of evil.
GREATER IS HE
But, my warrior sister, greater is He that is us than he that is in the world (1 John 4:4). As we ourselves put on the full armor of God listed in Ephesians 6, and as we pray for our sons to arm themselves with the same, we battle with hope and confidence.
And just as God's work in Brendan's heart has surprised me, I believe the work in your son's heart will surprise you.
It may take years to see this fruit. But let's "not become weary in doing good, for at the proper time we will reap a harvest if we do not give up" (Galatians 6:9).
WHAT ABOUT YOU?
Have you ever told your son, "Just be good"? How might this frustrate them or lead them to misunderstand where true goodness is found? Today, let's teach our sons about our need for grace and God's goodness, and let's get ready to see God work.
Throughout the day, pray the ten scripture prayers found at the end of the Goodness chapter in Praying for Boys!
Jennifer's eight eventful years as a missionary in Haiti produced a gift of brokenness through which she has discovered the depths of God's healing grace. She now helps others live boldly in this broken world through her blog, life coaching, speaking, and her ebook Take Courage: Choosing faith on my journey of fear (free to newsletter subscribers). She is currently writing a memoir of her family's nine-year adoption process and gripping experiences in Haiti. You can find her on Facebook, Twitter, Pinterest, and jenniferebenhack.com.
Just joining us? Simply subscribe to the MOB Society blog now. That way, the 21 Days of Prayer for Sons posts will come straight to your inbox all month long!