Usually, you pick your ministry. Sometimes though, your ministry picks you.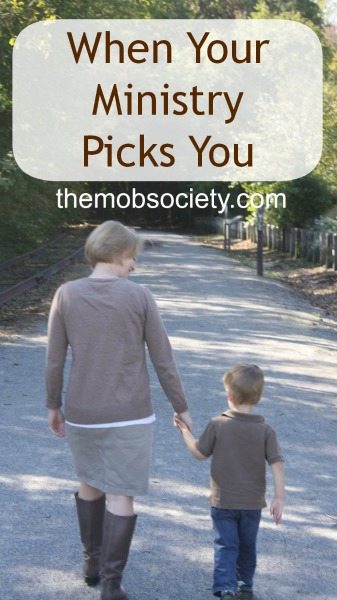 A few years ago, I wrote an e-book, Speechless: Finding God's Grace in My Son's Autism. The book is about my son's autism and the spiritual journey his diagnosis took me on. Writing that book was one of the hardest things I've done. I'd like to put it behind me and say, "Well, that was therapeutic. Let's do something fun now."
But around the book has grown a tribe. A community who loves and supports each other. Who teaches and encourages. Who rejoices and mourns. It's my tribe. My community. My ministry.
I didn't chose to be "the autism lady." But I am James's mom, and autism is a huge part of our story. And according to the newest stats, it's a huge part of the story for 1 in 50 children between the ages of 6 and 17.  That's 1 in 50 moms and dads who need a tribe. Who need hope.
As you're thinking about your ministry calling, be open to an area of your life that doesn't feel like a ministry opportunity. You may not want your ministry to be the one area in your life you struggle with the most. The area you are still trying to understand. The area God is using like sandpaper to refine you. The area that causes you to be the most sensitive, raw, and insecure. Don't ignore the work God is doing! You can make a difference in the lives of others going through the same circumstance.
Six years ago when my husband and I graduated from seminary, we could have told you all our big dreams for ministry in the future. Special needs ministry wouldn't have made the list. But now we see the special needs community as our mission field, our ministry.
Our ministry picked us.
Question: Can you relate? What ministries have been brought to you because of life circumstances that were out of your control?
***********
Sandra is a pastor's wife and mom to three boys, one with autism and one they are in the process of adopting from China. Sandra and her husband Lee recently released a Bible study for special-needs parents, Held: Learning to Live in God's Grip. You can connect with her on her website, sandrapeoples.com
(This post contains affiliate links)