A few months ago we did a survey on the MOB Society Facebook page and asked this question:
How many of you feel like a failure as a mom sometimes? Why?
Close to 1000 of you raised your hands, and we heard you loud and clear. But your responses to the "why" part of that question blew us away, and made it clear to us that we needed to spend some time addressing the causes of mommy guilt, and just why we're so prone to feelings of failure.
What better time to tackle this important subject than the first month of a new year?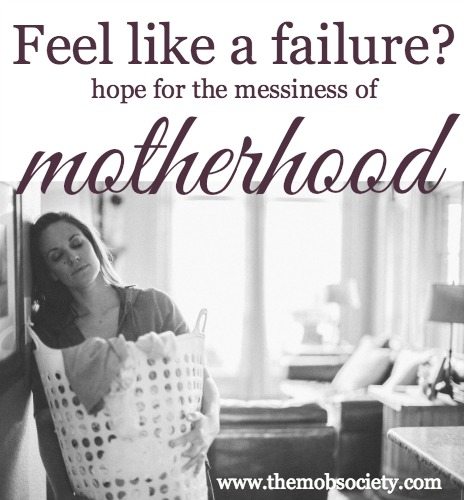 Beginning January 2nd, 2014, we'll start a new series at the MOB Society that answers our readers very real feelings of failure as a mom. We're calling it Hope for the Messiness of Motherhood.
Friends, these questions, these emotions we'll tackle, these feelings of complete and utter failure as a mom…they're real. And they're based on the comments you left us that day on our Facebook page, and the emails you sent because it hurt too much to say it publicly.
We'll start off each day with a "Dear MOB Society" question (again, they're real, friends…straight from your heart to our page), and our writers, who have all experienced the same fears and failures themselves, will bring you specific hope and encouragement that lives well, and is highly applicable to your life.
We're so excited about this series, because our hearts are to bring you hope and help you find delight in the chaos of raising boys.
If delight is something you feel like you could use a little more of, this is the series for you. Join us January 2nd. 
Day 1 – When Divorce Makes You Feel Like a Failure
Day 2 – When Mom Gets So Angry
Day 3 – When You Have Nothing Left for Your Husband
Day 4 – When You Feel Like You're Failing at Life
Day 5 – When You Can't Stop Worrying
Day 6 – When You Failed to Protect Him 
Day 7 – Discipline and Love
Day 8 – Working Mom Guilt
Day 9 – Dear Embarrassed Mom
Day 10 – When All You Want to Do is Protect Your Boys
Day 11 – When You Feel Like a Failure Because of Your Son's Choices
Day 12 – When You're Struggling to Make Ends Meet
Day 13 – When Your Son Has an Educational Delay
Day 14 – When You're Worn Out and Weary
Day 15 – When You Need Be More Flexible
Day 16 – When You Can't Get Your Kids to Obey
Day 17 – When Your Son's ADHD is Out of Control