My life's purpose weaves tightly entangled with that of my boys. Sometimes it's hard to tell where one of us begins and the other ends in this large family. We are often clashing and embracing, wrestling and loving, loudly and quietly carving out who we are together and the rare times we find ourselves alone. Growing up I wasn't even sure I wanted to be so fully entwined. It was beautiful at times and really hard often times to live blended as six in a house built for at most four. While deeply feeling and connected, I longed for independence and opportunity to find me, and yet here I do find myself again all grown up and tethered, a deep joy in the fullness.
I wasn't the girl who babysat often, who dreamed of a having children when I was young, who wrote out her future husband's name in pretty script on a notebook. A part of me wished I was, and in some ways it was self-preserving. I see that it was fear of messing it and them up, of wanting to give them all the things and worried that I wouldn't be able to. Fear of continuing patterns and knowing I was still not there myself. The strength of those fears diminished as I embraced the idea of motherhood. As we fought through years of infertility, it felt harsh to finally have the courage to show up to the party and then be told there wasn't one.
The sacred gifts are in the unfair, the no, the waiting, in the scarcity, the broken. The unexpected gifts are the ones we don't even know how to dare to dream for ourselves. The ones we limit Him to our short sights and simple plans.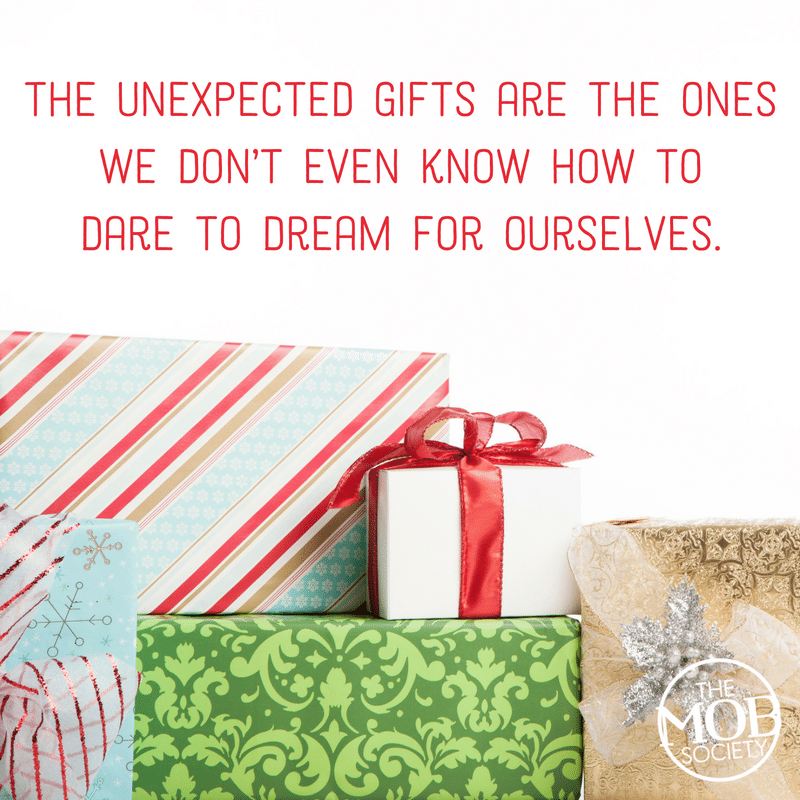 Where in the heartache, the diagnosis, the sleepless nights, the diminished hope, we couldn't see the beauty our masterful Creator was weaving. When in the busy, the ordinary, the routine, we make false idols and miss the relevance of the daily rituals. We are tied down by undeserving and unworthy, failures, and the dreams we think are better for us. We forget just who God is. We forget what He can do.
"After all, he's famous for great and unexpected acts; there's no end to his surprises." – Job 5:9, MSG
Where we are limited in our thought capacity, He reveals majestic dreams in His time, allowing us immense grace in piecing it all together. Our breath catches in our throats when we see His works in their fullness. Were they anything we could have envisioned on our own? I would never have known to ask Him for the most simple, treasured moments of motherhood.
My boys lining up on the stairs on one ordinary night and bowing as I pass while they regally exclaim, "make way for princess mama."
Little hands reaching for mine and the big bear hugs as they grow.
A small voice that comes up alongside me and whispers, "Mama, it looks like you need a hug."
The fierce love and protection boys have for their mamas. The bold empathy they have for others.
I could go on, we could go on, in all of the goodness He gives.
"Many, O LORD my God, are the wonders which You have done, And Your thoughts toward us; There is none to compare with You. If I would declare and speak of them, They would be too numerous to count." – Psalm 40:5 NASB
We trust Him in the hard and we also trust that His goodness will be enough. Not enough in the vein of scarcity, but enough in the sense of contentment and peace and the feeling it is good.
And now, being five boys in, through equal parts exhaustion and gratitude I embrace this unexpected, abundant life, and know that even when I hold it too roughly, too selfishly, and I don't feel deserving, it is still sweetly mine and made perfect by Him.
Michelle Krol is mama bear to a crew of five fine, young gentlemen (four share a birthday), and wife to the one who keeps her from taking life too seriously. Her passion is in lifting up boy mamas as they raise their littles to become the men God designed them to be. Michelle shares her heart and her mishaps at www.michellekrol.com.