Thank God for this truth.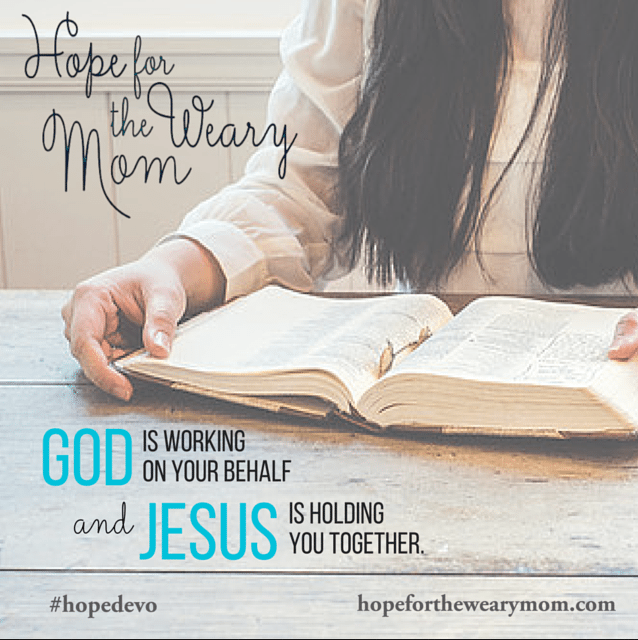 Ok, I'll admit it…I'm sick.
On book launch week. I've been trying to deny it for days, but when I lost my voice completely Tuesday night I had to admit it was true. I misplaced my supplements for one week and BAM!
Sick.
My youngest was sick all weekend (although a notably different kind of sick than I am now…his involved the constant use of a trash can), my house is turned upside down, I can't talk above a whisper, and my new Pioneer Woman cookware hasn't gotten the workout I'd hoped for it post-Christmas (oh…but it's coming pretty red cookware…it's coming).
I've had the kind of week that makes a mom want to stay in yoga pants all the time. Come to think of it, I need to invest in a few more pairs of yoga pants…
I certainly don't feel like I'm able to hold it all together right now. Thank God I don't have to.
That's Jesus' job.
If you're like me, you know women who seem to be holding it all together. Reality check? They aren't. According to Colossians 1:17, in CHRIST all things are held together…not in Brooke. Whew.
Motherhood isn't perfect. It wasn't designed to be. No one gets it right all the time. Stories about the sweetness, the glory, and the good are necessary, but moms need to know they're not alone in the hard times, the sweaty times, the messy times, too.
That's why I love this new (FREE) 5-day devotional series for weary moms called Dear Weary Mom…the Truth Stories.
We call them truth stories because they're written by moms who aren't afraid to tell it like it is.
Check out the line-up…
Mandy Rose (of House of Rose) shares about not always being a superhero…
Wynter Evans Pitts (of For Girls Like You Magazine) talks about the one, most important thing for weary moms to do…
Jeannie Cunnion (author of Parenting the Wholehearted Child) shares about one of those mornings that almost made her give up…
Crystal Stine (of Crystal Stine.me) reminds us that one thing stays absolutely true in the end…
And I'm sharing about that girl who's watching everything you do…and the importance of choosing hope for her sake as much as yours.
To get this free five-day devotional straight to your inbox (you'll get one devo every day for five days) just sign up here. Place your email in the box and hit "submit." Follow any verification instructions you might get and then wait for your welcome email.
Sharing REAL hope and truth!
Brooke
Brooke McGlothlin is co-founder and President of Raising Boys Ministries, author of Praying for Boys: Asking God for the Things They Need Most, co-author of Hope for the Weary Mom: Let God Meet You in the Mess, and creator of the Fight Like a BoyMom Program. She's a mother of two boys who believes God has chosen her to fight for the hearts of her sons. She can be found most often on her knees in prayer, not because she's so holy, but because God is. Not because she knows how to raise godly men, but because she believes in the God who loves them more than she does.