What are some hints to look for if you suspect this is your boy's love language?
One of my boys seems to want to be served a lot. We tease him because he's the only one that often asks: "Can you get me a glass of water?" Or "Can you scratch my back, Mom?" I used to think he was just being selfish, but then it occurred to me one day that in my busyness, and in my efforts to raise strong and independent boys, I do not personally "serve" this one very often. I began to recognize his requests as being a true cry for me to show him love. For me to slow down and pour him water was like telling him that I love him! This also happens to be the same son that, on my birthday, will get up in the dark morning hours and hang "Happy Birthday" signs for me, and make me breakfast to serve me in bed. So when I consider all of that, I realize that, indeed, this son's love language is Acts of Service. | Monica Swanson
I have learned to see my son's love language when he faces times of change or stress. While I learned to listen, he learned to express the longings that fill up his love tank. By telling me what he was hungry for, hoping for, or hankering for in hard times, he was teaching me how to speak love in the best ways to engage his heart. Acts of service nurture his confidence and provide comfort in times of transition or disappointment. Seeing how he responds to acts of service in tense times has taught me how to keep his tank filled day to day. | Julie Sanders
Growing up, I didn't ask for much — I wasn't the kid who displayed his heart on his sleeve or who verbally expressed his needs. But even a casual observer of my life could quickly determine that my love language was acts of service by the way I served others. I washed dishes for my mom on a daily basis without being asked because I knew it would bless her. I was always one of the first to volunteer for the mundane jobs at church of setting up, tearing down, cleaning, etc. Often, you could find me at the kitchen table listening to those in my family who just needed to talk — giving them my time and support freely. I never asked for these kinds of "acts of service" in return, but it's important to note that when someone would go out of their way to serve me in aspect, that's when I felt most loved. You may discover your son's love language to be acts of service through what they ask you for — but, you can also find significant clues through how they are loving others! | Nate McCloskey
Tell us about some of the intentional ways you fill your boy's love tank when it comes to acts of service?
Because I know one son feels loved when I serve him, I go out of my way to occasionally find some little extra acts of service I can do for him. Just packing his snacks before a surf contest (when I usually require him to pack his own) will make him feel loved. Bringing him a cup of hot cocoa or a special treat while he is doing his homeschool work will put a big smile on his face. Also, I find that really appreciating his acts of service makes him feel so loved. If he does something to serve me, I try to stop what I'm doing and really notice—and acknowledge—his efforts. | Monica Swanson
Speaking the love language of serving impacts my shopping list, my household chores, and my schedule. Starting in the pantry, I plan ahead for ingredients needed to say "love" to this boy. A little serving goes a long way, and his genuine appreciation confirms the language he loves. When I'm observant, I see opportunities to serve him in small ways that say, "I love you enough to lift your load." Reading a paper. Running an errand. Changing his sheets (yes, he loves clean sheets). Baking his favorite cookies. By releasing my plans, I can make him a priority so he hears "I love you" loud and clear. | Julie Sanders
There are so many ways to show a boy he is loved in the ways that you serve him! During my childhood and adolescent years, I always felt blessed when my older sister (who is also very servant-hearted) would complete one of my chores for me or when my mom would make one of my favorite foods (#chickenparmesanforthewin). Really, food can be a big deal to an "acts of service boy" as we know how much time, effort, and love is poured into the snacks and meals you make for us. I also remember feeling very loved by my dad when he would work on a special project with me — it didn't have to be for school or church, it was simply something I wanted to do or make. And he would faithfully help me plan and execute whatever I had been dreaming up in my head alongside me. Now, this love language still pops up in my appreciation for my wife's service to our family when she cleans or does laundry, or even when she spends the day completing our errands. My boys really enjoy making my lunch for me and I love opening those extra-messy peanut butter sandwiches knowing that my boys poured a lot of love into them. | Nate McCloskey
What are some practical ways you can teach your boys to love others well while working within the strength of their love language, acts of service?
I encourage my son to use his love language to show his brothers his appreciation for them. I suggest he help his little brother with his chores, or go with an older brother who has to haul the garbage down our long driveway to the street. In this way, I have taught him that he is truly showing love with his actions. This helps him to understand and appreciate the way God has wired him. | Monica Swanson
Special occasions have been great opportunities to coach my boy to speak love in the ways he knows best. Since his heart is wired for service, spending money on gifts leaves him disappointed. When we ask for his help or share gift ideas, we use terms that translate "love" to him. Because we really want his love, we ask for his service. He doesn't just bring me tea; he brings me tea on a thoughtfully prepared tray with cookies or fruit…enough to share! | Julie Sanders
When they are young, it's important to teach your boys to be sensitive to the needs of others. Help them think of creative ways to be a blessing with their service until they can recognize those opportunities on their own. You might encourage them to do a sibling's least favorite chore one day, or help them pick a volunteer job for an upcoming church or community event. And don't forget to ask for his help when you need it, but be willing to work a bit slower or a bit less perfectly than you might on your own. Seeing how his service impacts and encourages you in the moment can go a long way in strengthening this love language. You might also brainstorm and come up with a list of random acts of kindness that they can do for friends, family, or even strangers. This will pay off as they move into their teen and adult years as their radar for the needs of others will be finely tuned. | Nate McCloskey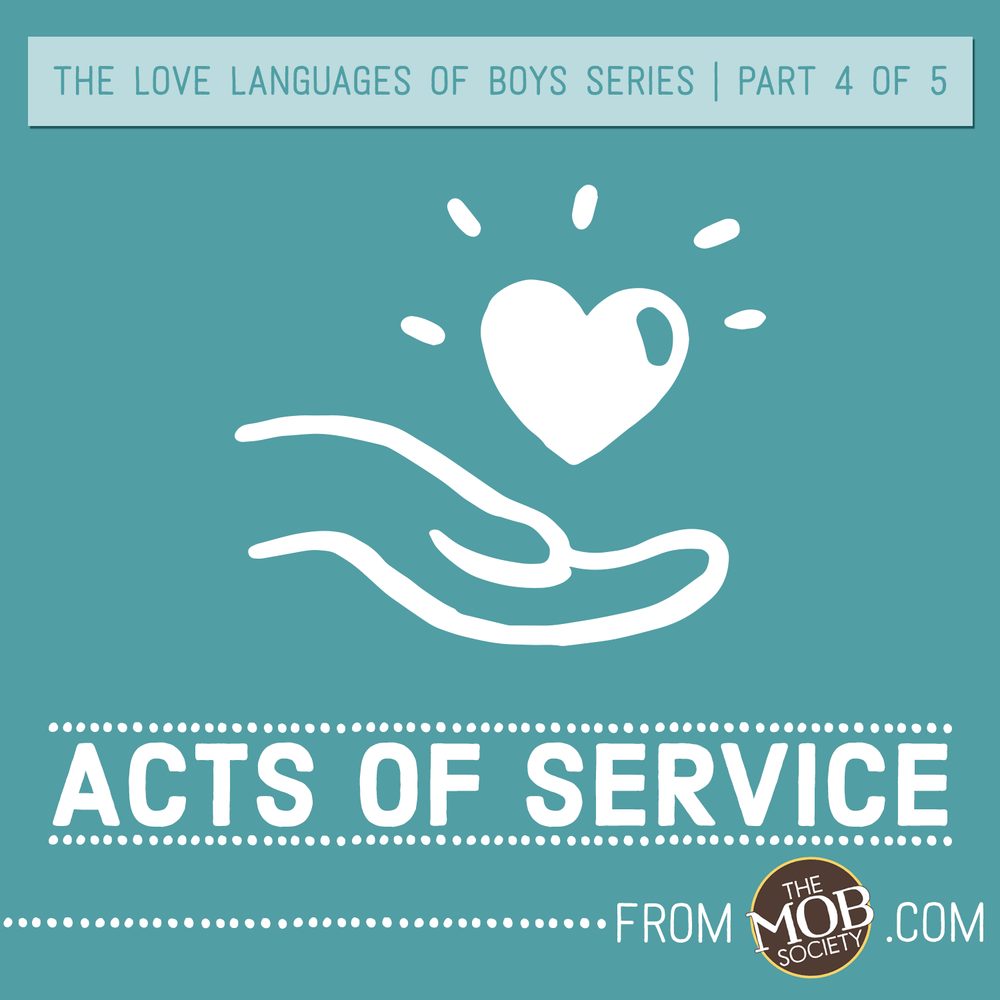 WHAT ARE SOME RESOURCES THAT WOULD BLESS BOYMOMS WHO HAVE SONS WITH THIS LOVE LANGUAGE?
Boys who speak the language of serving want to "do" something. My son loves to watch "how to" videos equipping him with little-known abilities to surprise and bless others. To help him broaden his serving vocabulary, he likes to know how things work, including planning our favorite family times. Give this boy music lessons, kitchen coaching, and garden guidance. He'll get to work and offer something that says, "I love you!" You might want to start with The Dangerous Book for Boys or help your boy pick out a cookbook or "how to" book that catches his attention. Be sure he knows how to use the washer, work household gadgets, and pick out tools. I like these chore charts from Molly Maid that help service-hearted boys express affection, and these are designed with boys in mind. | Julie Sanders
My kids have all been inspired by stories of missionaries and how their lives have service have been a blessing to the multitudes. There are many good ones, but the Christian Heroes: Then and Now series is one that we have loved. | Monica Swanson
For younger boys, consider getting them a "real" but child-sized set of cleaning supplies or cooking utensils so they can help alongside you in housework or the kitchen! As they get older, those "service tools" can morph into their own toolset or car/yard work set. You could also give them a list of random acts of kindness, like this one from Coffee Cups and Crayons or check out these fun "Good Deed" coupons they can give to friends and family from Mom It Forward! | Nate McCloskey
---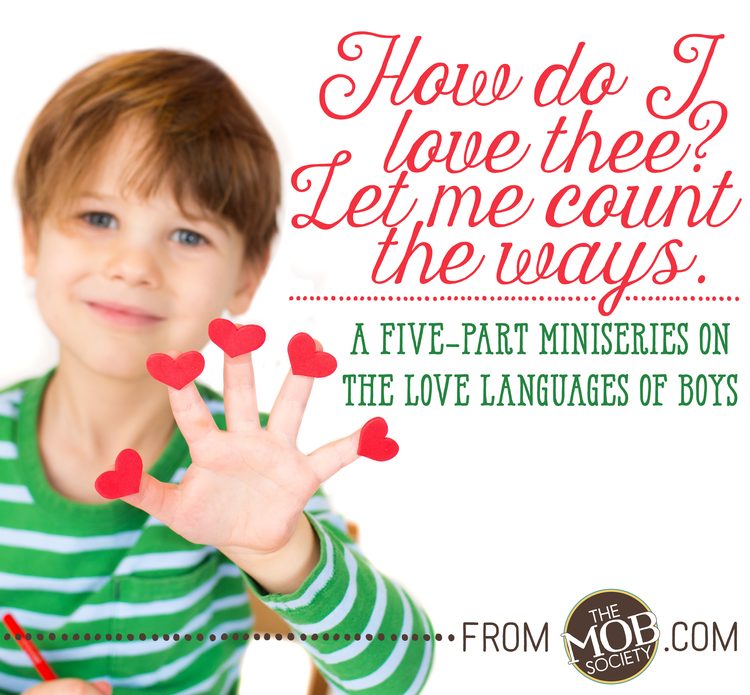 This article on physical touch is the first article in a five-part series on The Love Languages of Boys. Click over here to read an overview on what this series covers, access a printable assessment for children and teens, and download your FREE printable Love Language Worksheet along with other resources!