Introducing the newest member of the Hope for the Weary Mom family!
I've been so excited to tell you about this new little gem, and finally get to let the cat out of the bag! Without further ado, I'd like you to meet the Hope for the Weary Mom 40-Day Devotional!
Stacey Thacker and I dreamed of a book that would point moms right to Jesus—our source of hope. Something they could read in the morning or during nap-time or while they were in the car line at school.
A way for God's truth to intersect the daily reality of a weary mom's life…
Something they could read every day or reference during seasons that were particularly hard.
This is that book.
The Hope for the Weary Mom 40-Day Devotional releases in early January 2016, but you can get a sneak peak inside right now!
Stacey and I have picked our favorite three chapters, and put them into a three-day email devotional we'd like to send to your inbox completely free of charge.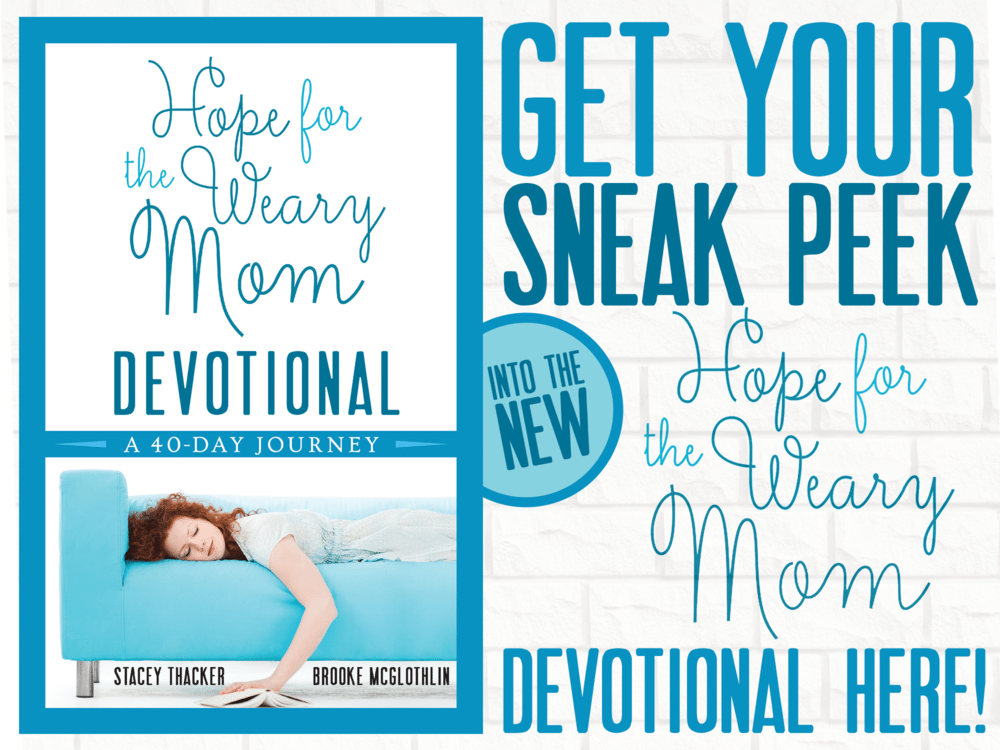 If you'd like to be among the first to have a sneak peak at our new devotional, just click here and enter your email address in the opt-in box you'll see. Click "subscribe" and wait for Day One to find its way into your inbox.
Jesus promises rest to those who seek him, mama, and we want to make it easy for you to get started. In this new book, you'll find 40 truths every mom needs to know in an easy-to-use, devotional format—perfect for the busy mom to fit in her life. In it, you'll discover that God:
is good
cares for you
sees you
can take your truth
gives you peace
never leaves you
fights for you
hears you
covers your mistakes
is holding you together
and 30 other truths a weary moms needs to know.
Each daily devotion includes a prayer, scripture, and questions for reflection so you can get the Word deep down inside of you. You'll be moved to deeper truth and be left with a hunger for more of God.
If this devo sounds like something you need speaking into your life (MAN! I wish I'd had it years ago!), sign up for your free sneak peak here.
Choose Hope!
Brooke
---