"Because he bends down to listen, I will pray as long as I have breath!" Psalm 116:2 NLT
It had been a hard day, running too many errands with two small children. My three-year-old didn't understand why we couldn't buy every toy his tiny hands could touch. And he kept getting in and out of the grocery cart, whining when I tried to stop him.
I was not a happy mama and wondered how all the other moms in the store seemed to know what they were doing.
Their children listened when they told them no and they wore matching outfits, too. I wondered how in the world those women pulled it off with a smile. I could barely get a shower, get my kids dressed and get us out the door before lunch.
When we got home that afternoon, I went looking for pink construction paper so I could write "I QUIT" on it and turn in my "pink slip" to my husband J.J. when he came home from work. I was tired of feeling like such a failure as a mom.
I just want to quit!
I couldn't find pink construction paper, so I decided to pull out my journal.  Filling blank pages with scribbled thoughts, I wrote:
I hate who I have become. I'm such a horrible mom. Why didn't someone tell me how hard this was going to be? I'm frustrated with my kids and myself. I have no patience and I don't know what I am doing! I feel guilty all the time. I couldn't wait to be a mom and now I want to quit."
Just as I finished writing that sentence, I sensed God whispering to me: Renee, You are so critical of yourself. You focus on your mistakes and beat yourself up with accusation and condemnation. Those are not My thoughts…"
That afternoon I fell on my knees before God and choked out the words, "I can't do this."
And in that place of surrender, His peace came over me. His gentleness calmed my nerves. It felt like God bent down before me to listen, and spoke to my heart: You are right, Renee. In your strength and through your perspective, you can't do this. But with My promises, My presence and My power – all things are possible. I will help you.
Looking back on that day, my heart can't help but echo the words of the Psalmist: "Because he bends down to listen, I will pray as long as I have breath!"  Psalm 116:2 NLT
When we acknowledge that we are a mess on our own, God rushes to our side to help us. He bends down to show us that with His help, wisdom and guidance, we can become the confident praying mama we long to be, and the confident mom HE created us to be!
**********
Today's post from Renee Swope is a partial excerpt from her new A Confident Heart Devotional book. Used with permission from Revell Books.
Enter to WIN a signed copy TODAY!
Enter to win one of 2 copies of Renee's new Confident Heart Devotional book!
To Enter:
Share your thoughts and let us know what friend you'd give it to, if you won 2 copies.  Winners will be announced Friday!
About Renee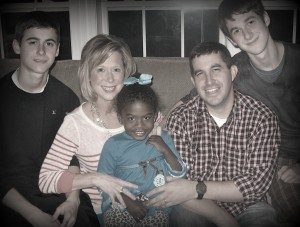 Renee has been married for over 20 years to her husband and best friend, J.J. She's a mom of three and loves every minute of it. She and her family traveled to Africa in 2009 to bring home their beautiful daughter who they adopted from Ethiopia at the age of 10 months. Renee is also a best-selling author, speaker and radio co-host with Proverbs 31 Ministries. She and her family live in North Carolina where Renee has served in leadership on the staff of Proverbs 31 Ministries since 1995. Connect with Renee on her blog at www.ReneeSwope.com.
 About Renee's NEW Confident Heart Devotional:
Do you ever feel like you're not good enough as a mom? Does self-doubt leave you feeling uncertain about your ability to shape and shepherd the hearts of your children? Expanding on her best-selling book, A Confident Heart, Renee Swope has written a new 60-day devotional that will encourage, empower and equip you to  live confidently in your God-given roles, relationships, and responsibilities! Each devotion also features a "When I Say…God Says…" statement with a Bible promise and a prayer to guide your thoughts and emotions that day. Plus you'll LOVE an easy-reference chart that includes all sixty "When I Say…God Says…" statements for days when you just need a promise to hold onto!
ENTER the Let God Love You Contest: 
Find out how you can WIN a $50 gift card, 2 additional signed copies of Renee's devotional book, and a beautiful 8×10 print from Emily Burger Designs at www.ReneeSwope.com