I watched him intently in my rear view mirror while driving home as carefully as I could. With each passing bump in the road, he winced. And after nearly an hour of praying exhausted Word-thirsty prayers and offering Jesus my thankful heart in weak one word utterances, we were nearly home.
I wanted to stop and grab dinner for my other three sons and amazing husband who had been left at home without us for eleven long days and nights. Nothing fancy, just a small gesture of thanks and a need to make this night a little easier after eating hospital food and drinking too many cups of coffee for too many sleep deprived days in a row.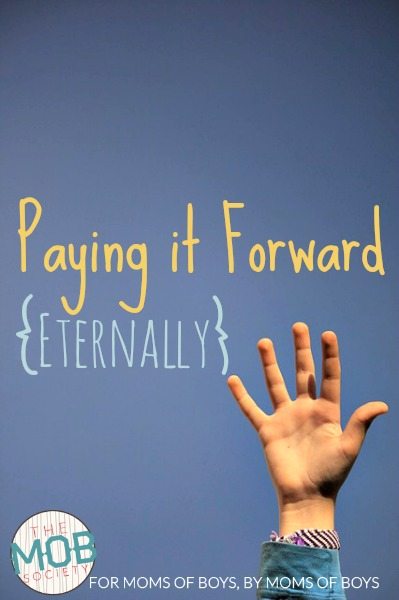 I pulled up to the drive-through window to pay for our meal. As I handed my card to the woman just within reach, she smiled sweetly with tears in her eyes and said, "No need, it's all taken care of. The woman ahead of you just paid for your meal."
I had no words. Glancing up at the minivan ahead of me and seeing little hands through the tinted glass windows in the back, I knew. This was a fellow mom, someone I'd never met, maybe with sons as well…just wanting to bless another mom.
My son in the back seat, a witness to this blessing, then asked me why someone paid for our whole meal. I told him it was because of God and His desire to bless us through another kind soul. I could see his young boy-mind thinking. I thanked God in that moment for so many things, but mostly, I was thankful my son was able to see God's goodness shining in what has been the most challenging year of our lives.
In those brief moments before pulling into our driveway, I thought about the many trials we've endured these past months. My mind rested upon those four boys of mine who really aren't mine at all. Each day, my life lived out in front of them, an opportunity to shine brightly the Love of Jesus. Can I be honest? I don't always shine brightly. Sometimes, I feel more like a dim old flashlight about to lose battery power, like the one I am always finding at the bottom of the toy box. But, when that one mom chose to pay the $37.18 for our meal, it was significant and sacrificial. I was reminded of Jesus who chose to pay the price for our sins on the cross. He made His Father known to all of us.
If I could write a letter of thanks to this mom, this is what I would say…
Dear sweet mom,

How did you know how much I needed a blessing, a mercy-gift, an act of selfless love…on this day? Perhaps you saw the worn out weariness written all over my face. Or maybe you saw the "Get Well Soon" balloons floating in our car that caused you to wonder if we might need a little ray of light in our lives?

I wish I could tell you just how much your kindness meant to me and how perfect God's timing was in bringing your generous spirit into our lives. You see, in case you didn't see him, one of my four sons was sitting in the back seat, a witness to your loving kindness. He's had three surgeries in the last two and a half months. His recovery has not been easy.

And before that, our home was severely damaged by broken water pipes, resulting in four months of demolition and re-construction of the main part of our home. And while that happened, we had to seek temporary housing in a one bedroom apartment. (did I mention we have FOUR boys?)

I'm not ungrateful. I do recognize the many MANY miracles that have taken place in the face of these trials. We have definitely grown stronger as a family. But mostly, I'm thankful for all the ways our boys have had one opportunity after another this year to see the face of Jesus in the midst of our struggles.

As we reflect back upon our most difficult year as a family, we also find ourselves being more thankful than ever before BECAUSE of what God has brought us through. He is so faithful.

When we arrived home, your kindness was the first thing he shared with his brothers. So, thank you, sweet one, for being the face of Jesus to my son today. Thank you for blessing him so much, he couldn't wait to tell his brothers about you.

You may not know this, but you made Jesus famous today in the lives of our four sons. And for that, I am eternally grateful.

In Him,
Megan Spires
Has your family persevered through a time of difficulty? We'd be so blessed to hear how Jesus was made famous to you and your sons through a challenging season.
*******
Good news! MOB Society co-founder, Brooke McGlothlin is speaking at the Teach Them Diligently Conference (TTD)! Find her sharing her heart about raising boys, overcoming mama-weariness, and the importance of praying for boys at the Washington, D.C. event (May 15-17, 2014), and at the Dallas, TX event (June 26-28, 2014)!
If you're planning on attending either of these events, GRAB YOUR TICKET TODAY! The early bird rate (just $45) ends tonight at midnight PST, so don't wait! Register now!
See you there!