Each Monday until December 23rd, we'll be hosting a giveaway in celebration of the Praying for Boys: Asking God for the Things They Need Most book launch!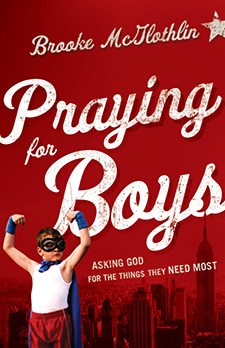 Here's more about Praying for Boys:
**********
Brooke McGlothlin knows what it's like to want to wave the white flag and just give up the fight for the hearts of her sons. But God has called mothers to get in the battle. So how do we do that in the most effective way?
By coming alongside them in prayer.
From fun boy mom humor, to insightful biblical wisdom, Brooke helps mothers of boys discover their value and power as praying moms.
Instead of hovering, we can provide prayer covering, empowering our boys with our prayers.
When they're still too young to guard their own hearts, we can do it for them through our prayers.
When they're older and making their own decisions, we can give our sons confidence to boldly embrace life, knowing mama is prayerfully protecting every step.
When we can't control their behavior, we can help shape their heart with our prayers
**********
These giveaways are my way of saying "THANK YOU" for believing in the message of this book, and for encouraging me to press forward in leading women to pray for their sons. I'm so incredibly grateful to each one of you because there's no way this book could've happened with out you. So this month, I want to celebrate you and honor you!
Enter to Win a $100 Shop Credit to Doorposts!
Doorposts is an amazing company whose mission is to supply families with "Bible-based, parent-designed, family-tested products to help you apply Scripture in your home." When it comes to character training, I can't recommend a company more highly.
This week's winner will also get the entire Bible on MP3!
The Listener's Bible, my favorite version of the audio Bible, and what got me through those early "just had a baby and don't have time to read the Bible" years, has generously offered an ESV version of the Old and New Testaments!
You don't have to do anything to enter these giveaways. Personally, I hate jumping through hoops, so I decided not to make you do it either. Just leave your email address below to enter (please remember to click the confirmation link to verify your email address. Otherwise, you won't be entered). As our thank you for entering, you'll automatically get the 5-day Praying for Boys: Covering them from Head to Toe challenge to your email!