Sunday marks the beginning of the season of Advent. And if you're like most Christian parents, you're wondering how in the world you're going to help your children really get the spirit of Christmas—the story of Jesus and God's indescribable gift—into their hearts.
How to Get Christmas into their Hearts
Every year, I feel like the Christmas season just sneaks up on me. Thanksgiving comes and goes, and I'm left scrambling for something to communicate the deeper meaning of Christmas to my boys. Like my friend Amanda, I want my boys to think of Jesus as the best gift of all. Here's what she has to say about it:
"Does the craziness of the holiday seem to sweep you away? Do you sit there on December 25th and say, "Wait. Did we even talk about Jesus the last 24 days?" Do Santa, gifts and parties cloud over the real stuff you want to focus on? I know exactly how you feel! I want my children to know and love Christmas, not for gifts or trees, but for Jesus!"
It's no secret that I'm not a crafty mom. Just the word, "craft" is enough to bring me to my knees, trembling. I hate crafting. But I love my boys. That's why I love Amanda's Advent experience for little hands, better known as Truth in the Tinsel.
Yes, it's crafty, but not in an overwhelming, "max out my credit card at Michael's" kind of way. In just a few minutes a day, Truth in the Tinsel allows me to give my boys the real Christmas story in a way that can truly grab their hearts. And if you're just really not into crafting at all, you can download her printable ornaments here (guess who's doing THAT!)
So this Christmas, I'm setting aside my own crafting fears and inadequacies, and getting intentional about putting the true meaning of Christmas in the hearts of my boys. 
We need it more than ever, and there's no time like the "present" to tuck this truth in their hearts.
——>>>> Normally, Truth in the Tinsel is $7.99 (as an eBook), but for MOB Society readers, Amanda has generously offered a 20% DISCOUNT! Just use the code "MOB" at check-out!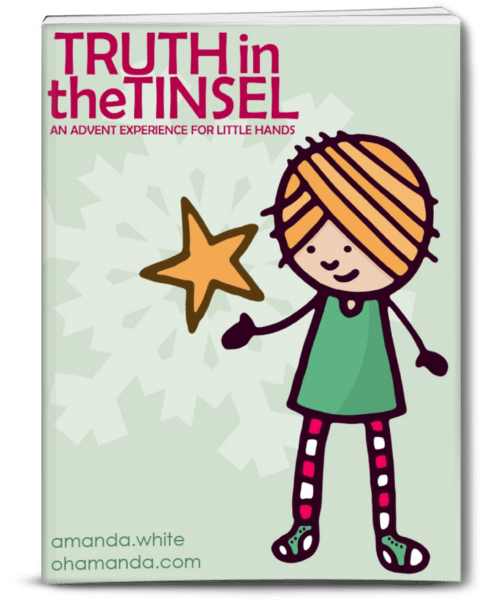 Click here to purchase your copy!
And as a special bonus…
Amanda, the author of Truth in the Tinsel, is joining us as our guest at a special, Christmas edition of MOB Chat Facebook!
Mark your calendar for December 3, 2013 at 9 PM EST. We'll be hosting Amanda, and talking about practical ways you can help your children understand that Christmas goes beyond the shiny and expensive to the true meaning of the season.
Do you have any questions you'd like Amanda to tackle at our December 3rd MOB Chat Facebook? Leave them in the comments and we'll use as many as we can!
"See" you on December 3rd!
*This post contains affiliate links*