Job Title: Gospel-Centered Parent
Job Overview: 
"That the next generation might know them, the children yet unborn, and arise and tell them to their children, so that they should set their hope in God and not forget the works of God, but keep his commandments." Psalm 78:6,7
"You shall teach them to your children, talking of them when you are sitting in your house, and when you are walking by the way, and when you lie down, and when you rise." Deuteronomy 6:7
Responsibilities and Duties:
1.Tell your children about God and His faithfulness.
2. Teach your children about God: When you are sitting, when you are walking by the way,  when you lie down, when you rise.
Other responsibilities:
Pray. Pray for God to mold you into his image; Pray for your children; Pray with your children; Ask your children how you can pray for them; ask your children to pray for you; open your Bible and spend time with God; allow your children to join you in your Bible reading; have a family bible time and allow your child to share their thoughts about the verses you are reading; tell your children what God is teaching you; share verses that are giving you hope in a difficult situation you are facing;  share how God is convicting you of sin and how you want to honor Him;  ask for forgiveness when you sin against your children; talk about how God has been faithful to you and your family, point out the ways that God has provided for your family.
Job  Qualifications:
You must be in the Word on a regular basis, nurturing your own relationship with God. When this is done, talking about God should be as natural as breathing. Allow His Word to be woven into your thoughts and make it a priority to go to Him for help and hope. Talk about God as you go throughout your day.
Our desire is that the next generation will know God. This must be our priority,  one day at a time. Drink in life giving "Living Water" and allow yourself to be changed into the image of Christ. When this is done, the Holy Spirit will flow out of the heart of one who is a true believer and will  bring life and light to those around them. This can only happen if you are soaking and being drenched with the Living Water yourself!
"If anyone is thirsty, let him come to me and drink. He who believes in Me, as the Scriptures said, 'From his innermost being will flow rivers of living water."  John 7
Our children are born THIRSTY. We can offer them a drink! Don't  lecture and preach to your children all day. (Who would want to live like that?) It must overflow from a well that has been filled. We can be faithful to our parenting job description, one day at a time, as we are faithful to nurture our own relationship with God and drink from that well that never runs dry.  The well of "Living Water"!
**Gina is the manager and mentor at The BoyRaiser Tribe! Details about The BoyRaiser Tribe can be found HERE!  Come and join us! We'd love to have you!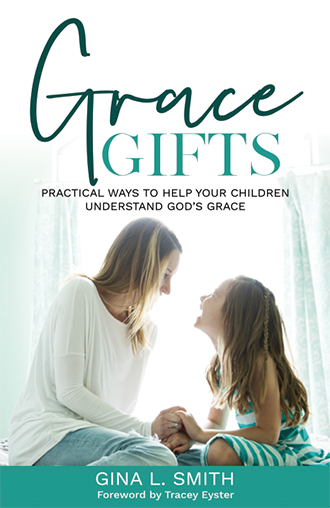 **Gina has a newly updated book entitled: "Grace Gifts". You can purchase your copy at amazon.com!
"As parents we can be tempted to look for methods of parenting, when what we really need is principles. The principles found in "Grace Gifts" can be carried out a hundred different ways. They can actually be custom-fit to your particular family. "Grace Gifts" is a short book, is perfect for busy moms, and is filled with ideas and practical ways that can help your children understand God's grace. It is one of those books you will want to reference over and over again."