Just a few days ago, flood waters swept the banks of town after town in West Virginia, destroying the lives and property of everyone and everything in their wake. Family members struggled just to find places to lay their dead to rest. Homes that stood the beating are left filled with mud, leaving treasured possessions and the familiarities of home gone forever.
An outpouring of help, compassion, and hard work from neighbors and strangers alike followed, and is still in progress in many areas. West Virginia knows there is hope, and that there's more hope where that came from. But as parents, when devastation rears its ugly head, we must ask ourselves one question:
In the midst of the darkness of disaster, what do we tell our children?
Thankfully, my boys have never lived firsthand through such a horrifying event. But I don't want to completely shelter them from the pain of others, because I know God wants to use this circumstance to help them practice shining His light in the darkness.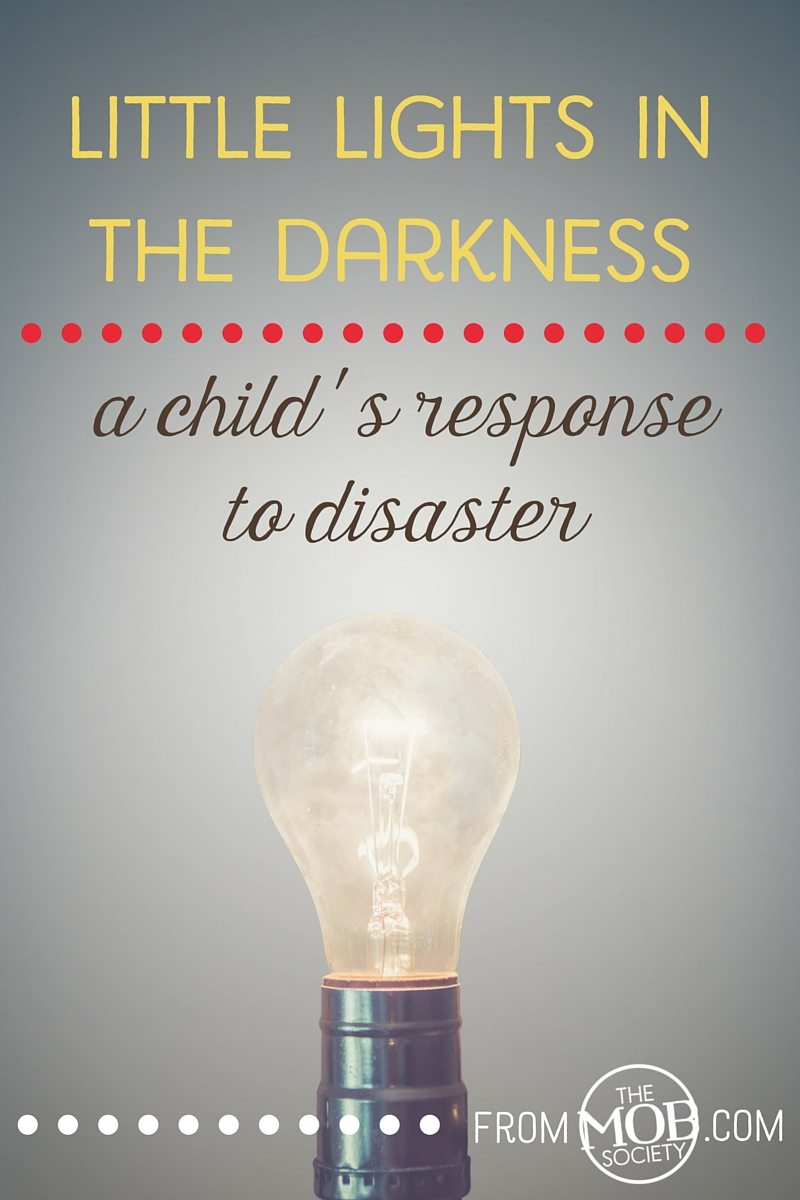 Here are a few lessons I learned during this time:
Communicate the damage in an age-appropriate way. Consider how much media you consume around your children during crisis like this. Depending on the age of your children, it may not be appropriate to leave the radio or TV on all the time. Kids are especially susceptible to secondary trauma: what they see and hear from the media and from those around them can cause damage. My sister worked at a childcare center during 9/11 and saw children who were unable to differentiate between the towers in New York and the Calgary Tower. They saw planes flying into towers (over and over again as it replayed on TV) and had a hard time dealing with their fear. As far as it is up to you, use parent-directed conversation and pre-screened media to help your children understand the need in a child-appropriate way.
Pray. You might be tempted during this time to say to your kids that we can "just" pray. Catch your words and remind yourself that our God is the God who changes weather patterns, who creates something out of the nothingness, who makes the dead alive, and can even make the sun stand still. God works miracles in the most dire of circumstances. Praise him together as a family when miracles happen, big and small alike, and pray for our God, the God of all comfort, to provide so much more hope than material goods ever could.
Raise funds. Any time there is a national crisis, from a school shooting to a natural disaster, agencies are flooded with material donations. Many of these donations end up in landfills because volunteers either don't have use for them or they don't have time to sort through them. The best thing you can do is find legitimate, local aid organizations and send them money. Children of any age can help with fundraising. During recent devastating fires here in Fort McMurray Canada, my 7 and 4 year old boys sorted through recycling and returned it for money. Many other children were running lemonade stands, one of them raising almost $1,000 in a single day! Teens can be even more creative with how they raise funds to help others in a time of need, from mowing lawns and babysitting, to conducting their own large-scale fundraisers.
Find specific people to help. While many donations given to aid organizations will indeed end up in the landfill (or incinerated, in the case of the Sandy Hook condolence gifts), there will obviously be many physical needs that can be filled. When towns near Fort McMurray suddenly filled with evacuees, teens provided babysitting while parents dealt with immediate needs, and children helped serve food in evacuation centers. A friend of mine shared that her 5 year old son was upset that children would have lost their favourite blanket or teddy, so they connected with a family who had a 7-month old. They had lost everything, so my friend and her son filled up a laundry basket of gently used baby toys, clothes, and some food for the baby. Then her son chose a new teddy and blanket for the little boy. In that case, the gift was truly meaningful to both the giver and the recipient.
I pray that this post will have given you some ideas so that you can release your children to be the hands and feet of Jesus in the darkest circumstances.
Recommended Resources:
*affiliate links
A fabulously challenging book about providing aid that truly helps.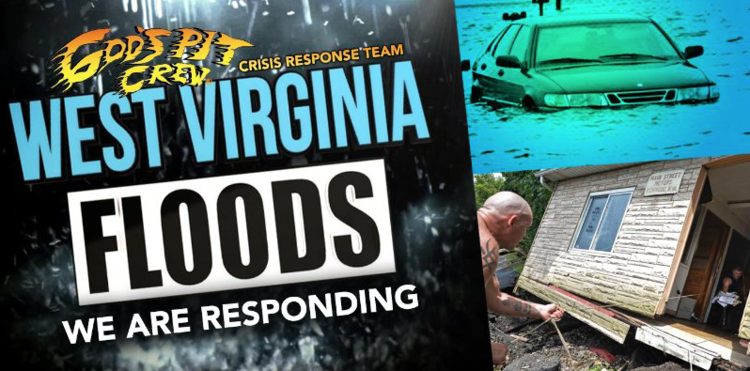 Donate to the restoration efforts in West Virginia by going through God's Pit Crew.