My baby is growing, changing … and that scares me. I'm not sure I'm ready for the next phase. This is all so new to me!
What will we do if this job doesn't come through? We're trying not to put all our eggs in one basket, but this looks like the perfect opportunity.
Four years to college tuition. I don't know how we're going to manage it. I'm afraid to even think about it!
When I think about my son going off to new school, anxiety rears its ugly head. Will he be able to manage? How can I help him?
No matter where you are in your mothering journey, you've faced the unknown. And there's more to come.
How do we look forward—toward the unknown—with a sense of hope?
It's easy to feel powerless, like a little sailboat tossed around by the waves. But there's hope when we realize that we know the very Source of power itself.
We moms want to do—to fix, to plan, maybe to control … and sometimes, we just can't.
There is, in reality, one thing we can control—our attitude toward the future. Here are a few steps that will help infuse hope into the unknown.
1. Confront it. Talk about it. Let your husband know how you feel. Face it together, or it can drive a wedge between you.
Does your husband have a tendency to try to fix everything, to reason it all out? If that will help, let him try. But if you just want a sounding board—if you just need him to know and understand and pray for you—then tell him that. Then pray together.
2. Look for the good in this process. The path to the future can stretch you, and that's a natural part of growth. You'll have a chance to do and be and understand something new–that's exciting.
3. See this as what it really is—an opportunity to lean on God. Too often, we want to handle it all, and we miss His blessings. This is a unique chance to see God at work. You know you can't do this – so sit back and enjoy watching what He does.
4. Have confidence in God as He works in you. Take your hands off the wheel. Sit back and let Him lead. Put your hand in His and trust Him to lead you into the future, in His perfect time.
5. Thank God for the chance to model your faith at work for your sons. They're watching, you know.
5. Remember—this, too, will end. Someday this "future" will be yesterday and you'll be stronger and wiser.
The Bible is full of God's promises about the future; even in hardship, God's presence is promised to us. What better hope? When we view tomorrow through our limited human mindset, it's easy to see it as frightening, but seen through Christ's eyes, it becomes a tale of God's faithfulness.
There are things we were never intended to fix, control, or manage in this life. When we can let go of those and give them over to the Father, switching our focus from tomorrow to Christ, our faith in Him grows even stronger.
Can't control what's happening outside of you? Then change what's going on inside. Trust the One who has control. The best way to move toward the future with hope is to hold on to the Unchangeable One.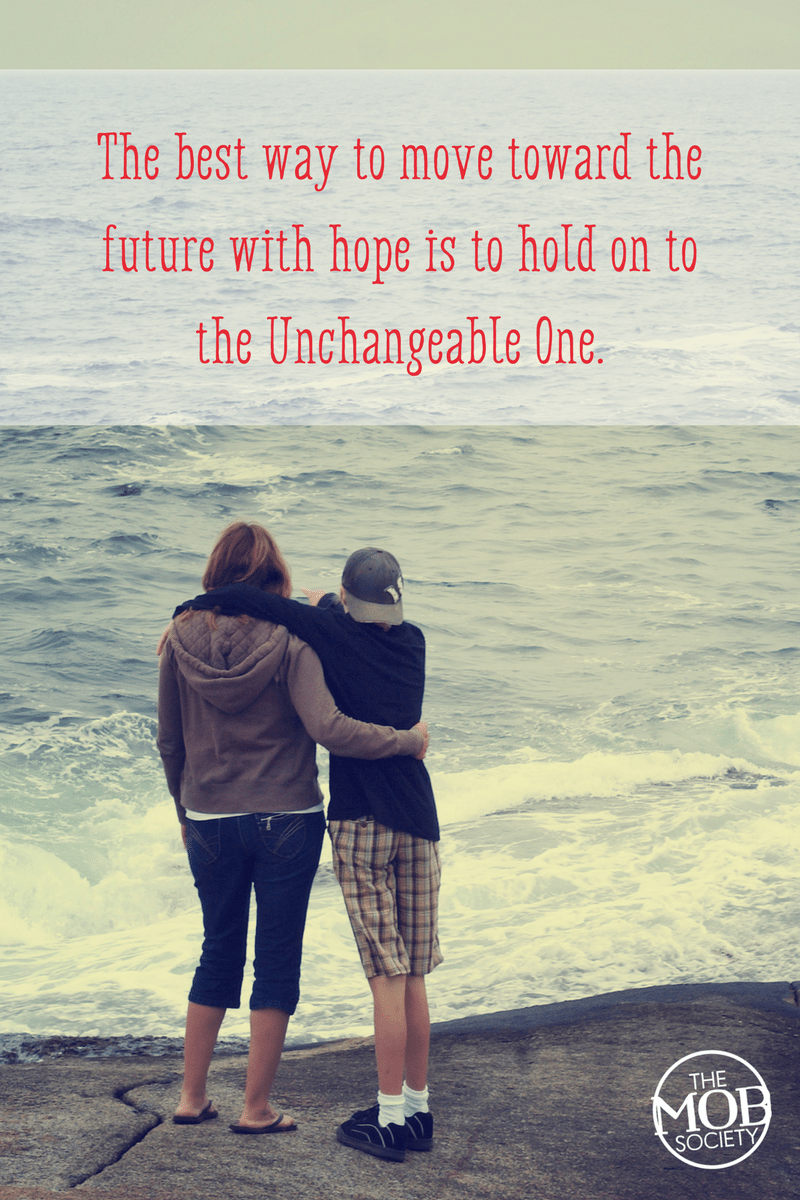 Jesus Christ is the same yesterday and today and forever (Hebrews 13:8).
My flesh and my heart may fail, but God is the strength of my heart and my portion forever. (Psalm 73:26)
You can face an uncertain future with hope when He is the strength of your heart.
Resources: