In just a few short weeks we will be celebrating Valentine's Day. I have always loved Valentines Day because I love to stock up on all the heart shaped things that the stores sell. You name it, and they have it in a heart shape and are selling it around Feb. 14th!   So, I go shopping!
I have collected so many heart shaped items over the years, such as: cake pans, a pancake griddle pan, a bundt pan, cookie cutters, ice cube trays, and heart shaped molds to make heart shaped sugar cubes! I've stocked up on gift bags with hearts on them, heart shaped sprinkles, and anything else unique that I can find with a heart on it!
The reason I have collected all of this heart "stuff" is because I love to use it throughout the year.  I look for random opportunities to give a gift or make a meal or a cake that is heart shaped, especially for my husband or children.  I guess you can say I try to celebrate Valentine's Day every day!  The weeks before and after Feb. 14th are just my opportunity to stock up for the year. I look for any excuse to use my heart shaped purchases.
The heart shape symbolizes love.  I want love to be my theme.  Love for others. Love for my family.  I want them to know they are loved.  When people come into my home, I want them to leave feeling like they were loved and cherished.
Life outside the four walls of our home is hard.  There are pressures and stresses that we all have to deal with.  Most people who walk through my front door are weary in some way.  I want my home to be a haven and I want to celebrate the precious people who I have the privilege of knowing– especially my husband and children.
Here are some ways that I have used my collection of heart shaped items over the years:
On a cold day I serve hot chocolate with whipped cream and heart shaped sprinkles or marshmallows.
I will cook  lasagna in a heart shaped pan or bake a cake in the heart bundt pan.
On a Saturday morning, I make heart shaped pancakes.
If my daughter (or someone I know) is having a rough week, I fill a gift bag decorated with hearts with a fun gift.
If my son has been working a lot of hours, or is having a bad day, I'll put a bag of chocolate kisses on his pillow.
When my husband comes in from working out,  I fill a glass with heart shaped ice cubes and fill it with water for him.
If I know someone needs encouragement,  I put a small candle, a tea bag and some chocolate kisses in a clear gift bag, tie a ribbon around it, attach a heart shaped card to the ribbon and give it to them when I see them.
Stocking up on hearts once a year is something I look forward to.  It's just one small way that I can prepare to love on those who have been placed in my care. This Valentines Day season, why don't you look for some heart shaped items to store away in a cupboard so that you can pull them out and use throughout the year. Your family and friends will love it! I promise!
**Gina is the manager and mentor at The BoyRaiser Tribe! Details about The BoyRaiser Tribe can be found HERE!  Come and join us! We'd love to have you!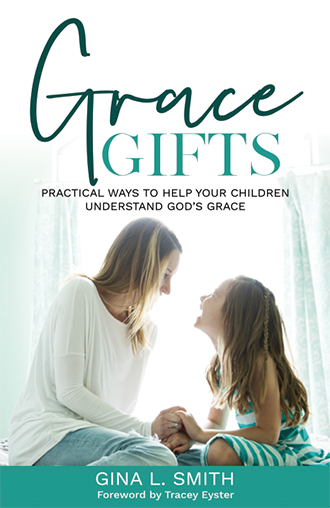 **Gina has a newly updated book entitled: "Grace Gifts". You can purchase your copy at amazon.com!
"As parents we can be tempted to look for methods of parenting, when what we really need is principles. The principles found in "Grace Gifts" can be carried out a hundred different ways. They can actually be custom-fit to your particular family. "Grace Gifts" is a short book, is perfect for busy moms, and is filled with ideas and practical ways that can help your children understand God's grace. It is one of those books you will want to reference over and over again."