I've entered a new stage of parenting boys.
We all sat gathered around the table to celebrate my parents' 45th wedding anniversary, and it was going quite well until my husband brought up the almost perfect game our nephew pitched the week before in his little league game.
My son's eyes hit the floor, and his shoulders slumped, and I knew, that I knew, that I knew, what the problem was. In my best super amazing mom voice, I said…
"Son, I know what you're thinking. You wish you were as good a pitcher as your cousin, but God made you you for a reason. You don't have to be anyone else. Just be you."
It was just the right blend of practical wisdom and spiritual truth, and I was proud of myself for thinking of it on the fly.
Unfortunately, that's NOT what my son was thinking about. His reply?
"Mom, you don't know what I was thinking about. I was thinking about girls in bikinis on beaches."
Well, there you go. Clearly, I'm the best mom in the world. I was trying to speak godly wisdom into my nine year old's heart and all the while he was thinking about itsy bitsy teeny weeny yellow polka dot bikinis. Fabulous.
I was equal parts mortified and grateful. Mortified that he'd spoken the words out loud, and grateful because this kid just always tells it like it is. I never have to wonder too long about what's happening in his heart.
Knowing what to do about it is a whole different story.
That's why I'm so grateful that God has surrounded me with moms who really get it. Sometimes, you need to hear from other moms who have walked this road before you…or maybe moms who are on the same road as you walking just two or three paces ahead…
That's why we created The Parenting Playbook for Christian Moms of Boys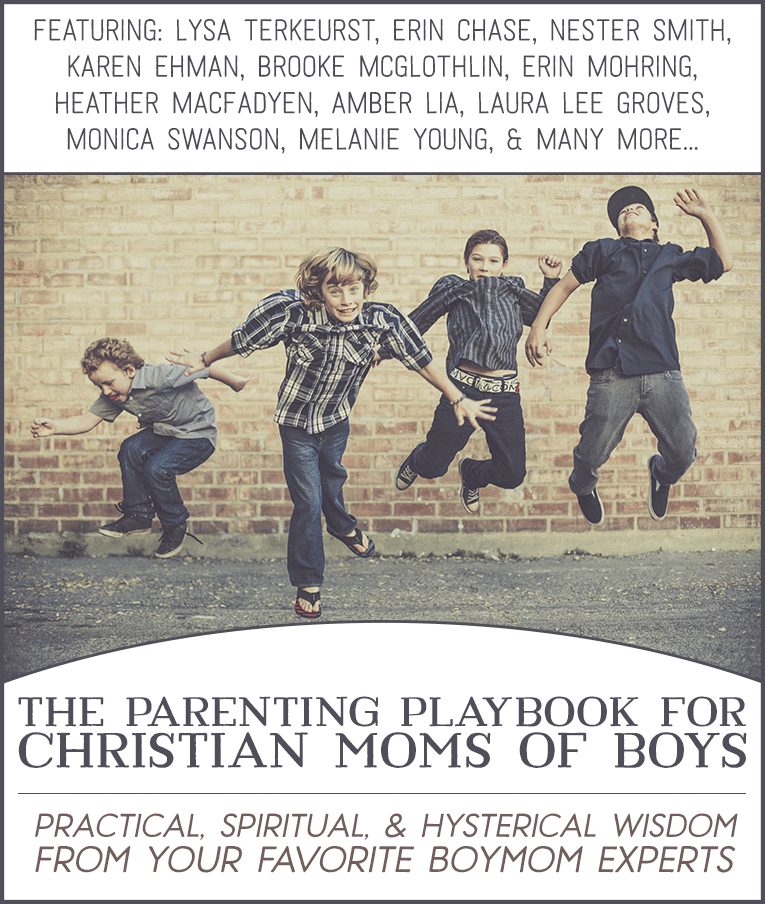 Maybe you don't have that group of moms surrounding you as you raise up godly men.
Maybe you're walking this road alone, a pioneer among your family as you try to parent differently than you were parented.
Maybe you're feeling a bit hopeless, or desperate to find godly wisdom from moms who understand what it's like to raise boys.
As we looked around the internet, in Christian bookstores, libraries, and churches, we saw a distinct lack of information available to the boymom who needed a community to come alongside her, care for her, pray for her, equip her, and give her hope. We also saw moms who felt completely alone, like there was something wrong with them, or worse, something wrong with their boys.
So we asked 30+ of our favorite BoyMoms to share their wit and wisdom for raising boys. What we received from them is some of the funniest, most practical, biblical advice you'll ever get on the subject.
Advice from moms like:
Lysa TerKeurst
Erin Chase
Karen Ehman
Melanie Young
Heather MacFadyen
LaToya Edwards
Lisa Leonard
Nester Smith
Jacque Watkins
Natalie Snapp
Jeannie Cunnion
Alli Worthington
Michelle Myers
Jessica Bowman
Logan Wolfram
Amber Lia
Lisa-Jo Baker
Lisa Whittle
Wendy Speake
Jenny Sulpizio
Laura Groves
Kristi Griem
Monica Swanson
Jess Connolly
Lisa Pennington
Alisa Keeton
Erin Mohring
Kristina Tanner
Mandy Rose
And more…
All of this phenomenal wisdom, gathered together in one place, is yours completely free!
That's right! You can't buy The Parenting Playbook for Christian Mothers of Boys. There's only one way to get it, and that's by subscribing to our free email newsletter, The BoyRaiser.
Once you do that, we'll send you your FREE copy of The Parenting Playbook for Christian Mothers of Boys.
(As a member of our family…aka a BoyRaiser subscriber…you'll receive fresh content every few days that will help encourage and equip you as you raise godly men. Our goal is to make you feel like family, but you can unsubscribe at any time!)
You may not be able to see all the moms who have gone before you, cheering you on. But with The Parenting Playbook in your toolkit, you'll hear them loud and clear.