In today's #BitsOfBrooke, I'd like to answer a question I get a lot from moms who truly believe the Bible is true, but have no idea how to make it their source of strength and power. In other words…
"I believe God's word is true, but now what? How do I take it from just being a book of words to truly changing my life?"
If you're in a season where the Bible seems dry to you, or are a new Christian trying to figure out how to really live out the words you're reading there, maybe these five steps will help?
Five Ways to Make the Bible Come Alive
1. Open it
When my oldest son first started playing the fiddle, he wasn't very good. He was pretty terrible the next day, too, and even a few weeks after his first lesson. He learned to play Twinkle, Twinkle Little Star pretty quickly, but little violins have terrible sound quality, so he still sounded pretty bad.
Now, almost five years later, he's performed Ode to Joy in front of 500 people with his little brother and is gearing up to compete in a local fiddler's convention this summer.
Get in the habit of spending daily time in your Bible, even if it's just to read a Psalm and a Proverb. It may not come easily, but just as my son needed time spent practicing his instrument to improve, we need time in the word of God to begin trusting that it's true.
2. Know it
As you spend more and more time reading your Bible you'll see something amazing start to happen! You'll find yourself thinking about or living in a certain situation when a verse you just read (that applies to what you're going through) will pop in your head! That's God! That's the word being alive and active in you! And it's amazing.
I can't count the number of times I've been comforted by a verse at just the right time. Whether God drops it in my heart, or the heart of a friend, He chooses to use His word to comfort, correct, sustain, and build us right when we need it most.
But if we don't open it, and don't know it, that won't happen.
3. Speak it
When I was younger I battled fear. One of the ways I went to war against this attack of the enemy was to speak God's word out loud, and even though God has given me a significant measure of healing in this area, I still speak Bible verses out loud when I'm afraid.
My favorites are Psalm 4:8 and Psalm 23:4
"In peace I will both lie down and sleep; for you alone, O Lord, make me dwell in safety" (this one gets spoken when I'm trying to fall asleep), and "Even though I walk through the valley of the shadow of death, I will fear no evil, for you are with me; your rod and your staff, they comfort me" (I use this one when I'm walking into a dark house alone and feel threatened). 
Sometimes, I even just say Jesus' name out loud, because it's the name above all names (Philippians 2:9-11) and is mighty to save (Zephaniah 3:17).
Speaking a verse or two out loud—whether you're afraid, or confused, or hurt—reminds us of what's true, and has the power to make peace settle in ours hearts.
4. Use it
Ya'll know about my fascination with sticky notes, right? If you come to my house, you'll see them all over. Written on them are Bible verses that focus my attention on Jesus, and help me remember what's true. I have them strategically placed in the house where I need them most. For example, there's one in the bathroom to remind me that my greatest need is Jesus. Why? Because the bathroom is where I tend to go when I want to lock myself away.
I also have my favorite scriptures printed out and framed around our house. I use them as reminders and as prayers. When I walk by my sons' room, I pray Psalm 92:4 because it's hanging in a frame outside their room. These are simple, inexpensive ways to fill our hearts (ours and our family's) with the word of God. I can't necessarily afford those beautiful framed scriptures from my local Christian bookstore, but I can afford a $5 frame from Walmart, and a little ink from my printer.
5. Love it
This one may be the most important of all, because loving God's word starts with loving Him. If we don't have a deep sense of gratitude and love for God, we won't love His word (<<—Tweet That!).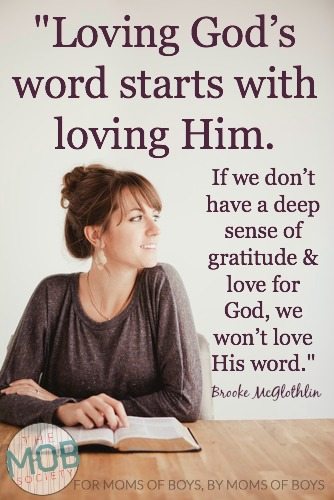 How do we "fall in love" with God? For me, it's a simple matter of remembering all He sacrificed for me while I was still stuck in sin (Romans 5:8). I'm so grateful for forgiveness from my sin, so grateful that I'm not who I was, so grateful to have right standing before the Lord, so grateful that I can call on Him, so grateful that He sees me and loves me, so grateful that He protects me and provides for me…so grateful that all I can do is love Him.
Because of that, I want to know Him, know His character and His ways, to the best of my ability. I love His word, the Bible, because it's how I get to know Him better and learn about His great love for me.
The Bible has amazing power to transform our lives when we open it, know it, speak it, use it, and love it.
**********
Brooke McGlothlin is the co-founder of the MOB Society, author of Praying for Boys: Asking God for the Things They Need Most, and co-author of Hope for the Weary Mom: Let God Meet You in Your Mess (releasing from Harvest House in February 2015). Get a free copy of her ebook, Surprised by Life: Five Ways to Respond Well When Life Doesn't Go as Planned when you subscribe to her free newsletter.