Father,
1. I am caring for sick children today. Please strengthen and enable me to take care of the extra needs that are present.
"God is our refuge and strength, a very present help in trouble." Psalm 46:1
"But I will sing of your strength;I will sing aloud of your steadfast love in the morning. For you have been to me a fortress and a refuge in the day of my distress." Psalm 59:16
2. Help me to keep my eyes on you, to depend on you to hold things together, and remind me that I am powerful in prayer.
"And he is before all things, and in him all things hold together." Colossians 1:17
"Do not be anxious about anything, but in everything by prayer and supplication with thanksgiving let your requests be made known to God." Philippians 4:6,7
3. Please help me to remember that you understand what we are  going through and please pour out the extra grace that I  need to get me through this season.
"Let us then with confidence draw near to the throne of grace, that we may receive mercy and find grace to help in time of need." Hebrews 4:16
4. Help me to trust you with all my heart and to remember that your ways and thoughts are higher than my ways and thoughts.
"For who has known the mind of the Lord,  or who has been his counselor." Romans 11:33-34
"For my thoughts are not your thoughts, neither are your ways my ways, declares the Lord. For as the heavens are higher than the earth, so are my ways higher than your ways and my thoughts than your thoughts. " Isaiah 55
"Trust in the with all your heart, and do not lean on your own understanding. In all your ways acknowledge him, and he will make straight your paths." Proverbs 3:5-6
5.  Remind me that you are the Great Physician and that you are in control of everything.
"Yours, O Lord, is the greatness and the power and the glory and the victory and the majesty, for all that is in the heavens and in the earth is yours. Yours is the kingdom, O Lord, and you are exalted as head above all." 1 Chronicles 29:11
6.  Help me to remember that there is eternal value in caring for my children.
"And they were bringing children to him that he might touch them, and the disciples rebuked them.But when Jesus saw it, he was indignant and said to them, "Let the children come to me; do not hinder them, for to such belongs the kingdom of God. Truly, I say to you, whoever does not receive the kingdom of God like a child shall not enter it. And he took them in his arms and blessed them, laying his hands on them." Mark 10:13-16
7. Give me the rest I need to be able to care for my children.
"The Lord is my shepherd; I shall not want. He makes me lie down in green pastures. He leads me beside still waters. He restores my soul."  Psalm 23
"Come to me, all who labor and are heavy laden, and I will give you rest." Matthew 11:28

8. Please provide the help that I need when I need it, making those who know me aware of my needs.
"And let us not grow weary of doing good, for in due season we will reap, if we do not give up. So then, as we have opportunity, let us do good to everyone, and especially to those who are of the household of faith." Galatians 6:9-10
"Bear one another's burdens, and so fulfill the law of Christ." Galatians 6:2
9. Thank you for your perfect example of sacrifice and service. Please enable me to live in a way that reflects you to those around me, beginning with the little ones in my home.
"For even the Son of Man came not to be served but to serve, and to give his life as a ransom for many." Mark 10:45
10. And may Your name be glorified through this difficult time.
"And I am sure of this, that he who began a good work in you will bring it to completion at the day of Jesus Christ." Philippians 1:6
"And we all, with unveiled face, beholding the glory of the Lord, are being transformed into the same image from one degree of glory to another. For this comes from the Lord who is the Spirit."  2 Corinthians 3:18
**Gina is the manager and mentor at The BoyRaiser Tribe! Details about The BoyRaiser Tribe can be found HERE!  Come and join us! We'd love to have you!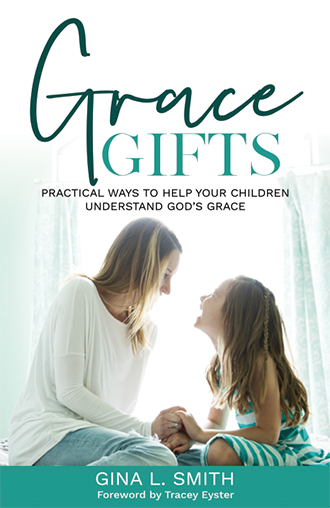 **Gina has a newly updated book entitled: "Grace Gifts". You can purchase your copy at amazon.com!
"As parents we can be tempted to look for methods of parenting, when what we really need is principles. The principles found in "Grace Gifts" can be carried out a hundred different ways. They can actually be custom-fit to your particular family. "Grace Gifts" is a short book, is perfect for busy moms, and is filled with ideas and practical ways that can help your children understand God's grace. It is one of those books you will want to reference over and over again."