THIS ARTICLE IS A READER FAVORITE AND WAS ORIGINALLY PUBLISHED IN JULY 2012.
This is the third summer we have gathered our boys. We meet once a week. We pray, memorize Scripture, learn from His Word through a fun activity, and end with our huddle: "Who are we? GOD's MIGHTY WARRIORS!"
The front of our shirts read the purpose of the group: "Prepare for Battle." We are filling these boys with truth. Truth they can stand on in the battles ahead.
We know from Jesus' example, Biblical warriors not only know truth, but also live sacrificially. Jesus came to serve.
Each summer we integrate service into our "training." Boys learn: "to give is better than to receive." We can entertain ourselves by helping others, not just with a screen.
My goal in sharing these service projects with you is to encourage you to get together with other moms of boys and do a project of your own. We have been called to raise up the next generation of leaders. Let's teach our leaders to serve.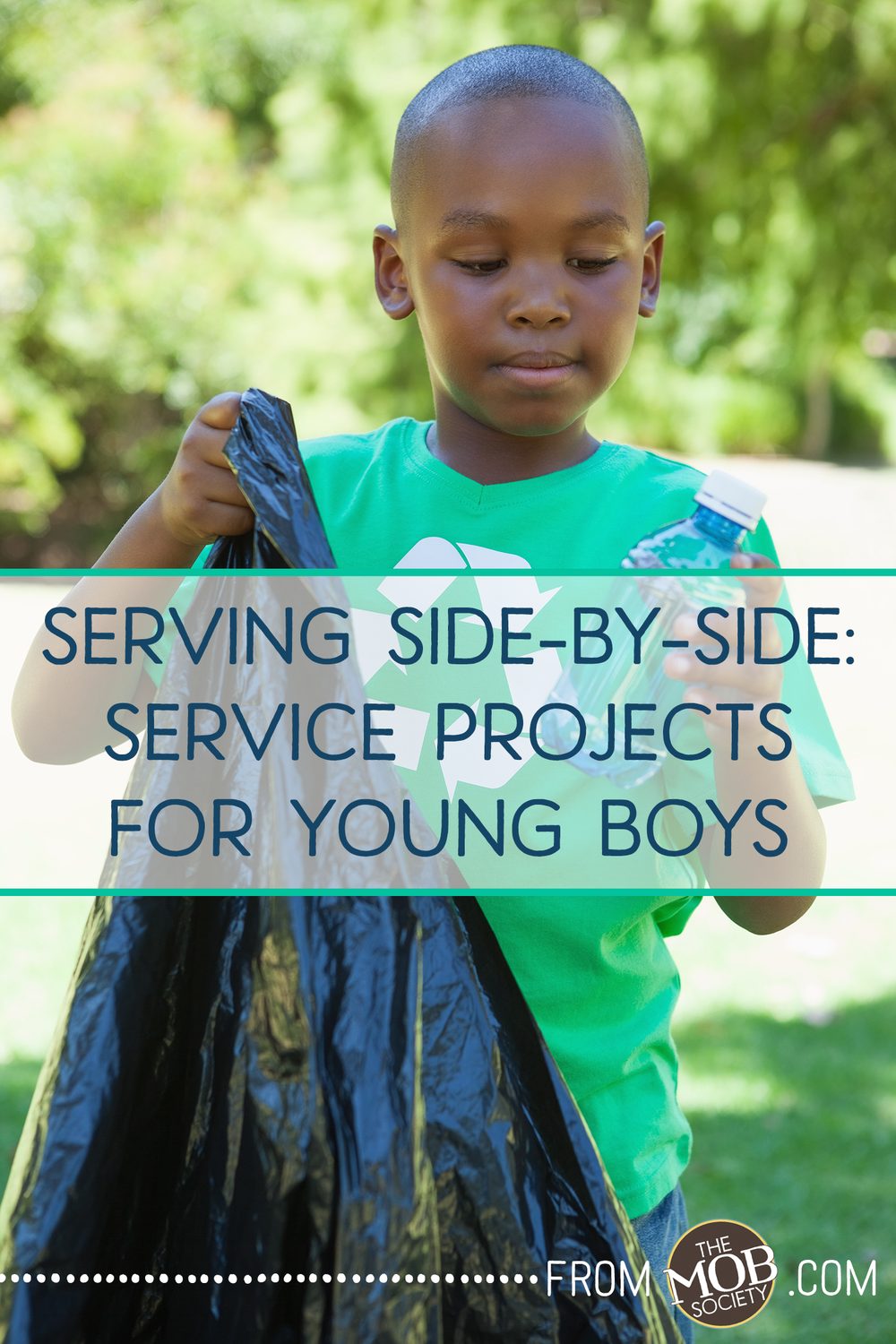 1. Community Center
In West Dallas, Brother Bill's Helping Hand is a community center desiring to enrich the lives of those in the community through education, encouragement, and meeting physical needs.
Once a week, they provide a "grocery store" opportunity for those in the community. Shelves are stocked with food. Anyone can come and shop with dignity, strolling through the aisles selecting essential items. Food is then bagged and carried out to their cars.
Our boys directed individuals through the store. They also helped bag the food and carry it to their cars. My boys, who can throw a decent tantrum in the grocery store, were well behaved and helpful in this environment of service.
Since our visit, I've been wanting to return and help with the re-stocking efforts before the "grocery store" opens. I love this simple way for my boys to use their endless energy.
2. Welcome Soldiers Home/Send Soldiers Packages
A mom from our group learned about an opportunity to go to the airport and welcome troops who are coming home from war. Our boys crafted signs of gratitude, thanking these men for their sacrifice. Thanking them for fighting for freedom.
Another idea, if you don't live near an airport, is to create a care package for a soldier. Here is a website with all the details on sending a care package. Their mission is to provide care packages to soldiers who hardly ever receive mail…what a ministry! Pack up a box and address it to "Any Soldier" and they will make sure the right soldier receives the package.
3. Pick up Trash
One week into studying the prodigal son, we visited a local Audubon. The guide at the Audubon taught the boys about pigeons. We experienced the amazing ability of pigeons to find their way home. Just as God will always welcome us home, pigeons always head for home.
The nature guide told us the number one killer of birds is consumption of trash. They eat the trash, which they cannot digest, causing their stomachs to explode.
One way to serve our community and God's creatures is to go to a park and pick up trash.
4. Shoe Drive
Although my boys prefer to go barefoot, we also understand the value of shoes for protection. For many, shoes are a luxury. In other countries, no shoes means no school. In fact, it was seeing the importance of shoes in other countries which inspired a young man from Dallas to start the TOMS company.
After we learned about putting on our gospel boots (a part of our spiritual armor), our boys spent the next few weeks collecting shoes to deliver to a local shelter.
5. Treat Neighbors
I like to bake with my boys. When a friend sent me a kit to make Sprinkles cupcakes, we used the day to make a batch. Then we delivered our creations to a couple of neighbors.
God calls us to love on the widows and orphans. Pam, our neighbor who raised three boys of her own, now lives alone. We wave and exchange pleasantries when I take a walk with my boys. This time, we brought cupcakes.
A few weeks later, we came home to find a bag hanging on our door with my sons' favorite food: tomatoes! The boys learned how to love their neighbor as themselves. How wonderful it is to serve and to be served.
What service projects can you plan to do with your boys this week?
---