I have a touch of anxiety coming on here as a girl mom (I'm just shooting straight with you this morning, because I love your community and think it's so critical that you have each other)!
But what I want to talk about today isn't unique to girls or boys. You know your boys can be tender and kind and loving—that isn't just a girl thing—and while girls may naturally cuddle a baby doll and boys may step on that doll trying to find the first truck or ball, their hearts were made the same.
To love.
I really believe God made our kids to light up the world, and that they are his plan to spread His love. That makes my job thrilling. Mom's get the great privilege of showing them how to love, how to serve and even how to forgive! And even more exciting, we get to step back and watch God prompt their little hearts.
Boys can practice and learn by the experience of generosity, and be crafted by God to change the world.
Meet one of them, Charlie.
Charlie is the son of my friend Stacey, of Grace in the Chaos. His birthday was coming up—the big 1-0.
Stacey knew this was a big one—double digits. He could've chosen anything big for this special birthday, but to his mom's surprise, he asked if he could do something we encourage on my blog—Light 'Em Up or The Birthday Project. He knew about both of those from the influence of his friend Cooper and his precious mom.
Of course, his mom said an immediate, "YES!"
They set a budget of $30 and picked ten things for Charlie to do.
He even had a script.
His 9th task has touched my heart deeply and I have been telling it on every stop of my book tour. You'll see why.
He decided to buy flowers and stand outside Wal-Mart until the "one" he wanted to "light up" came out. He tried one lady and she kept talking (oh no she didn't!) paying no attention to his attempt to bless her. Sweet Stacey regrouped him, they prayed and he waited again.
Finally, he saw the "one," went up to her, and said, "My name is Charlie and I turned ten today. I have decided to light up the world with ten acts of kindness and you are my number nine!
She was shocked and hugged him, and they bounced off to the car. When they got to the car, Charlie realized he only had $1.20 left for this last act of kindness and he was bummed that he couldn't do much with it. Stacey gave him a great pep talk.
Just about that time, the lady with the flower was coming back to the car with her eyes filled with tears. She explained that her husband had just died a few months before and that she never gets flowers any more. She told Charlie that what he had given her was more than just a bouquet, it was joy to a hurting heart. She was, for sure, "the one."
And then, she handed him $20.
Only God would connect these two and meet both of their needs.
MOTHERS OF BOYS!
I am so thankful God put kindness in the heart of all of our kids.
I am also thankful that moms like you and Charlie's mom have the courage to let go and watch God move. Charlie doesn't ever need another lecture on generosity. He's got it.
Your boys are learning and watching you. Keep up the awesome work. Invite them to the party and let your boys experience WHO you know not just WHAT you know.
GIVEAWAY
I'd love to give away 3 copies of In This House, We Will Giggle today. I wrote it for all parents – not just the girl moms!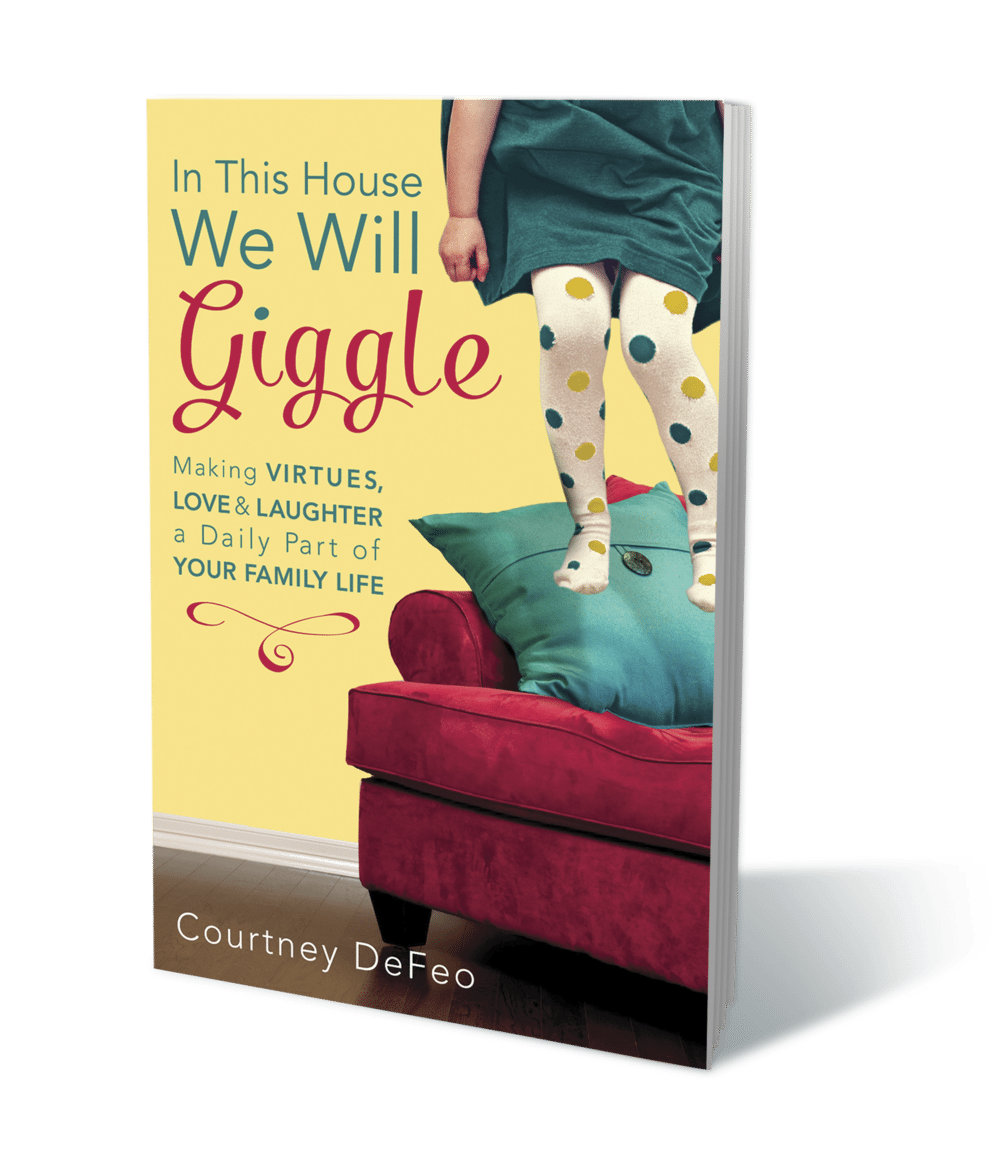 To enter:
Just say hello and tell me what you love about your boy(s) – how you see kindness coming out of his heart.
Courtney DeFeo is the author of In This House, We Will Giggle. Join her in the Light 'Em Up 2014 fun – 100 ways to show kindness in your community!