This page includes affiliate links. When you purchase through them, we earn a commission that helps support this ministry at not extra cost to you. Thank you!
Here at The MOB Society, we are about encouraging you building strong faith in God within yourself, your son, and your family. We also care greatly about taking care of the bodies God has given us to use for living out His purpose. We believe that a healthy mom sets a good example for her sons and for the family as a whole. Minding our health is good stewardship of the gifts God has given us to bless others.
Let's talk a little more about what this looks like:
HEALTHY MOM
A healthy mom eats well, moves often, and finds time to rest and refresh. The word skinny does not define healthy. There is not one way to be a healthy mom, but it does require one thing from you: to know you are a child of God who is worth the time and attention it takes to live healthy. There are so many ways to be healthy, so it can be overwhelming to get started. We recommend baby steps.
HEALTHY BOY
We all know boys have lots of energy, so channel it into activities that keep them healthy. Not every boy loves competitive sports, so you might have to get creative with these activities, but don't give up trying to find ways to get them moving. Hiking might appeal to a science lover golfing with Mom or Dad might be just the thing for a boy who wants one-on-one time. Good eating habits will give them the right kind of energy, without a big sugar crash. And while they may seem like they never stop moving, keeping a regular bedtime will help their bodies recharge and recover well after an active day.
HEALTHY FAMILY
When everyone is taking care of their health in a family – eating well, moving more, resting enough – the family functions better in every way. Diets and crazy extreme fads lead to stress and poor habits in the long run, but healthy living improves life for the whole family. It's time to make it a priority along with spiritual health so that we are serving God together from a place of wholeness.
One of our very favorite resources for a healthy family is the Ultimate Healthy Living Bundle! It is available now through Monday, September 25th and you can't miss it!
The value of the bundle is over $2,400, but you get it for only $29.97 (PDF)/$39.97 (eReader)!
Here's what's all included in the 2016 edition: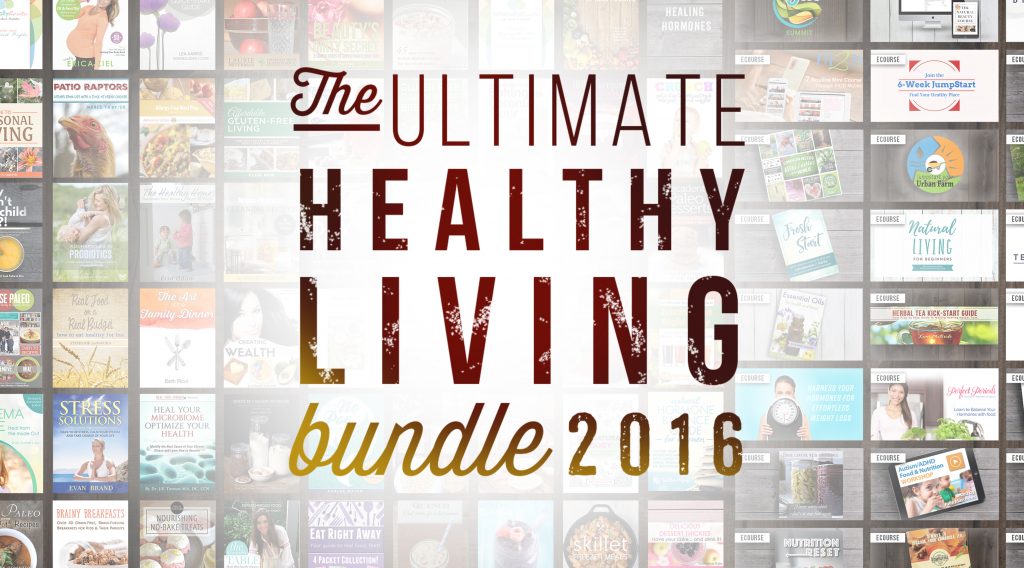 Alternative Health
DIY Beauty & Skincare
Essential Oils & Natural Remedies
Fitness & Weight Loss
For Women
Gardening & Homesteading
Gluten- & Grain-Free
Healthy Kids
Healthy Lifestyle
Paleo
Real Food & Nutrition
Recipes
Also included are these amazing bonuses…
1. Bloom Naturals – $15 gift certificate toward any product ($15 value)
2. Perfect Supplements – $15 gift certificate toward any Perfect Brand product ($15 value)
3. TriLight Health – $15 off select TriLight products ($15 value)
4. MadeOn Skin Care – FREE BeeCool Muscle Balm Stick and Natural Lip Balm Combo (value $15.25)
5. The Maca Team – FREE Organic Gelatinized Yellow Maca Powder, 8 oz. ($15.44 value)
6. Primal Life Organics – FREE 1-ounce jar of Dirty Mouth Toothpowder ($15.97 value)
7. Get Kombucha – FREE 2-week supply (15 ml) of Kombucha Pro: Liquid Probiotics (value $29.99) AND/OR a FREE 1-ounce bag of 8. Get Kombucha's Custom Organic Kombucha Tea Blend (value $15.99)
9. Orglamix – FREE Mineral Eye Shadow Trio ($18 value)
10. Experience Life – 4 FREE digital guides (value $29.99)
11. Grove Co. – FREE Mrs. Meyer's 64 Load Laundry Detergent, Mrs. Meyer's Fabric Softener, 60 Day VIP Trial, and FREE shipping with a $20 minimum purchase for new customers ($32.66 value); FREE 1-year VIP Membership ($39.95 value) for existing customers
12. Meal Garden – 6 months of Meal Garden FREE (value $35.70)
This 2016 edition of the Ultimate Healthy Living Bundle is only available for a few short days, so get your copy now at 98% off the value of all products – only $29.97 (PDF)/$39.97 (eReader)!