My son, Mareto, can get a little nervous when he's not safe and sound inside our home. While many boys might jump with excitement at the call to "go outside and play," Mareto sometimes freezes with fear and uncertainty. The sun feels too bright, the sounds are overwhelming, and the grass can feel like needles on his feet and legs. For children with Sensory Processing Disorders, the outdoors can feel too big, too loud, too scary, and just too much.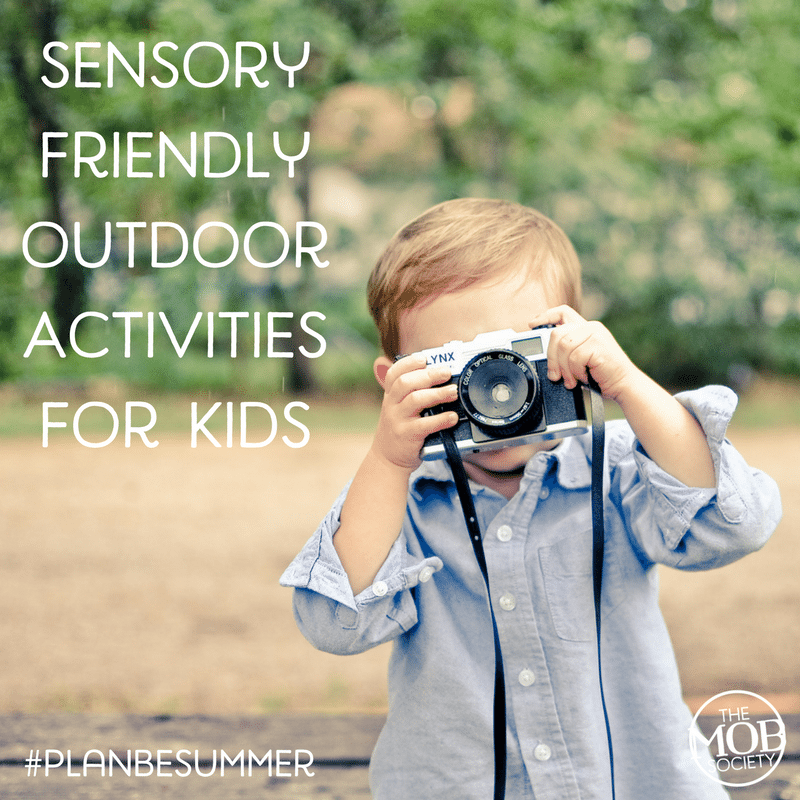 By accepting that he experiences the world through a different lens than we do, my husband and I have been able to help Mareto find ways to enjoy playing outdoors. Our method is simple: we look for creative ways to bring his favorite indoor activities outside and combine them with things that soothe his sensory system.
Just a few of our most successful activities are:
We fill a large bin with cool (but not too cold) water and set it on a table on the deck. Mareto picks out a handful of cars and trucks from his toy basket and takes them outside. We give him sunglasses, a can of shaving cream, and a washcloth and tell him to have fun! He loves the feel of the shaving cream and water, and he gets excited at the chance to get his trucks and cars wet.
Mareto loves dinosaurs! For Christmas we got him a safari vest, a compass, a flashlight, and binoculars along with a large bucket of toy dinosaurs. This activity is so simple – we just hide the dinosaurs (in easy spots) throughout our backyard, get Mareto all decked out in his gear, and let him search for dinosaurs in the yard with his binoculars. Every so often he will take a picture of one of his sightings. *Tip: Mareto often wears his rain boots outside to avoid the grass scratching his feet and legs when he's feeling extra sensitive.
Kiddie Pool Scuba & Fishing
Mareto loves water. If it's been a particularly rough day and nothing we try helps calm him down, we always put him in a warm bath. He settles down almost instantly and feels happy and relaxed. The other day he asked for a bath and for the first time was able to verbalize to us, "My body feel better in the water." In the summer months we try to keep him in water as much as possible. Sometimes we fill a plastic pool up with water from the hose and scatter a bunch of toy fish on the bottom. Mareto likes to alternate between using his goggles to be a "scuba diver" and sit on the outside and "fish" with a stick and string.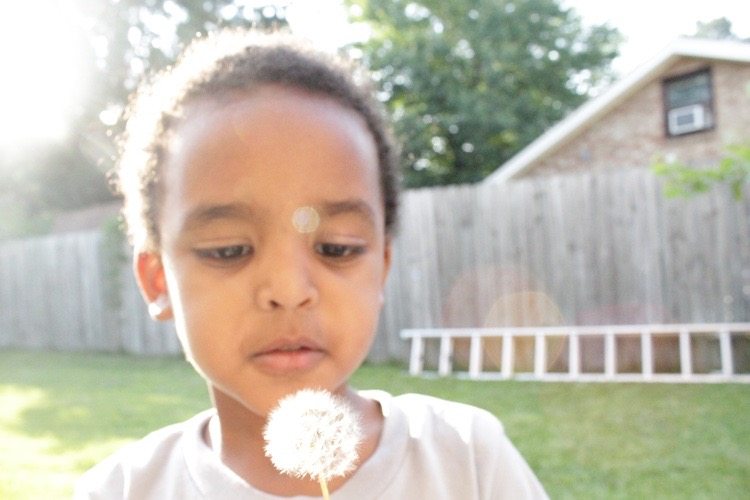 Our son is an incredibly gifted photographer and while he usually likes taking pictures inside the house, we've been able to expand interest to the outdoors as well. If we aren't in our own yard and are unable to do the activities listed above, we try to be sure he has access to a camera so he can snap pictures and experience the outdoors through the lens instead. Somehow that makes all the difference and begins to notice all the little things jumping out at him – like a dandelion or a puddle.  A special bonus for us is getting to scroll through the images later to catch a glimpse of how Mareto sees the world.
If you have a little boy who struggles with sensory processing disorders, try some of the ideas above and maybe you'll find a new favorite summertime activity! And if all else fails … get a dog to coax your little one outside!
Lauren's new book, It's Okay about It:Lessons from a Remarkable Five-Year-Old about Living Life Wide Open, released this week! Her son Mareto's simple yet profound wisdom is a reminder to embrace the broken beauty of life, to believe in a God bigger than human comprehension, and to love others even when it doesn't make sense. For all those looking to recapture the faith, simplicity, wonder, hope, courage, and joy of life, It's Okay About It provides a guide to look inward and live outward, to discover the most wide open and beautiful life possible.